(Auszug aus der Pressemitteilung)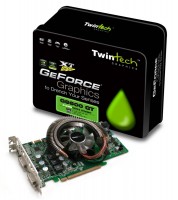 The Twintech™ NVIDIA® GeForce® 9600 GT GPU offers a powerfully impressive entertainment experience designed for extreme high-definition gaming and video playback. Play the hottest DirectX 10 games with awesome speed and watch the latest HD DVD and Blu-ray movies with brilliant clarity. Featuring next generation GeForce and PureVideo® HD technologies, the GeForce 9600 GT GPU puts amazing graphics performance within your reach.
There are two GeForce 9600GT :
The first : 9600GT XT edition is an overclock model with a artic-cooling fan. (GPU : 700mhz – RAM/rate : 950mhz / 1900mhz).
The 9600GT XT vedition is already available in a nice metal box.
MSRP : 179€
The second : 9600GT XXT Edition is also an overclock model, but we manufactured this card with better memory than nvidia specification
Twintech 9600GT XXT edition : 0.8ns 2200mhz / Nvidia 9600GT : 1ns : 1800mhz.
The 9600GT XXT edition will be available the 7 avril 2008.
MSRP : 189€
KEY FEATURES:
Resolutions up to 2560 x 1600 allow for extreme HD Gaming
PureVideo® HD technology provides a premium HD DVD or Blue-ray movie viewing
HybridPower™ technology offers exceptional graphics performance and power saving for everyday needs
SLI® technology and PCIE 2.0 compatibility guarantee amazing performance scaling and ultra fast data transfers
The perfet price and performance combination to get the most bang for your buck
NVIDIA GeForce 9600 GT SYSTEM REQUIRES:
PCI Express®-compliant motherboard with one vacant PCI Express x 16 slot
One 6-pin PCI Express supplementary power connectors or Two 4-pin Molex supplementary power connectors
Minimum 400W PCI Express compliant system power supply with a combined 12V current rating of 30A or more*
50MB of available hard disk drive space for basic driver installation
Microsoft Windows Vista or XP operating system
* Minimum system power requirement based on a PC configured with an Intel® Core™2 Extreme X6800 processor