(Auszug aus der Pressemitteilung)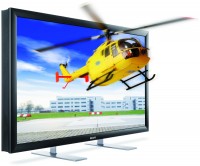 Las Vegas, USA – Philips promises an exciting, entertaining and engaging 3D experience with the introduction of a 52-inch 3D Display at InfoComm 2008 (June 18-20). The 52-inch 3D display, that immediately grabs the attention of the viewer in media-rich environments and creates ultimate 3D stop and holding power, is well positioned for professional use in the digital signage, pro-AV, and entertainment applications. Thanks to the WOWvx technology used in Philips 3D Displays, no special viewing glasses are needed.
Philips 3D Solutions provides end-to-end 3D system solutions ranging from 3D displays, 3D content creation and conversion tools and technology licensing. By expanding its 3D Display product portfolio with the 52" 3D Display, Philips is responding to developments in the signage market towards more diversity in display sizes. Jos Swillens, CEO of Philips 3D Solutions: "With our new 52-inch 3D display in the portfolio, we can offer the pro-AV and digital signage market an even higher degree of immersion and a more exciting 3D viewing experience. Our broad range of 3D display product – in combination with our full range of content creation tools and our licensing program – makes us a true end-to-end 3D system solution provider".
The 52-inch auto-stereoscopic 3D Display is based on a full HD (1920×1080) LCD panel, offering full brightness (700 cd/m2), full contrast (2000:1) and a response time of 8 ms. The WOWvx technology uses the 2D-plus-Depth format including Declipse, which gives additional occlusion information for a real 3D 'look around' effect. The 52-inch 3D Display will be commercially available from Q4 2008 onwards.
Philips will demonstrate the 52-inch 3D Display, along with a full range of other 3D Display and content products at the Philips 3D Solutions booth C1519 in Central Hall 1 of the Las Vegas Convention Center at InfoComm 2008, from June 18-20 in Las Vegas, USA.