(Auszug aus der Pressemitteilung)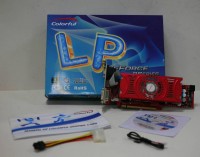 As everyone knows, although the Mini case is beautiful and usually is used for connecting the TV, the performance is not good enough, so a lot of people complain that they can't enjoy the 3D game with their super-large screen LCD TV set. It is because that no manufactory design high-end card with Low Profile. But today, Colorful launched a low profile 9600GT, now you can own both the beautiful mini case and a powerful 9600GT with amazing performance.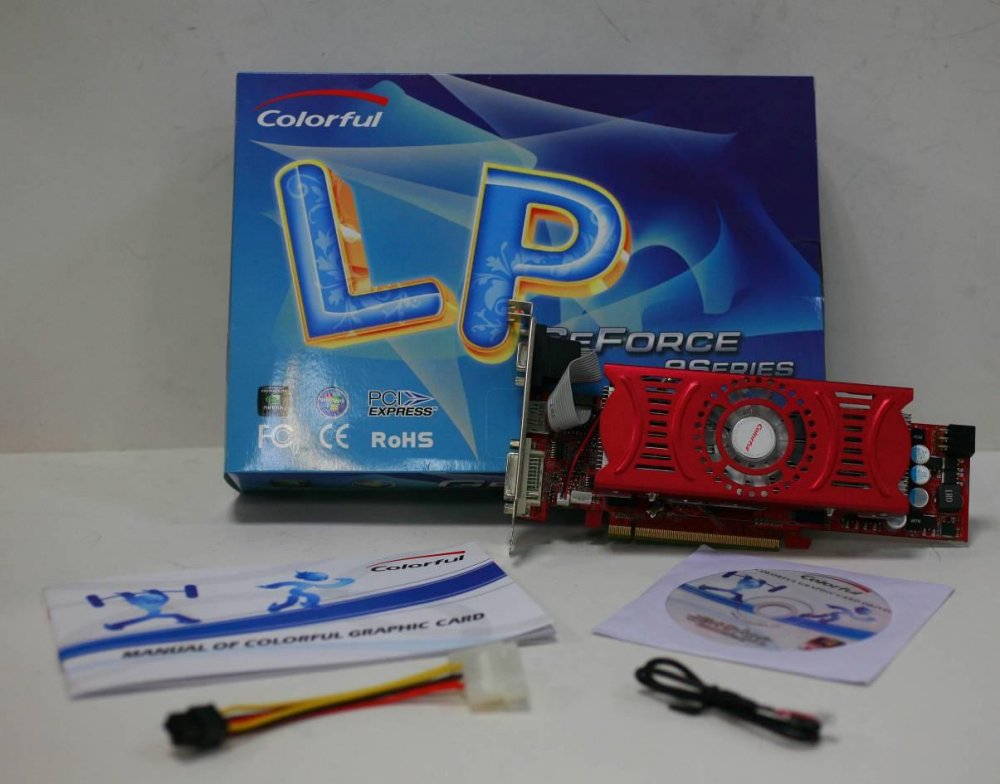 Special Advantage:
Useable in all size cases, Especially design for the mini cases
8-layers PCB guarantee working steadily long time.
Using high efficient cooling system with heat-pipes, the temperature is only 43degrees when start up.
Using 8 pieces high quality SAMSUNG 1.0ns memories, default clock is 1800MHz, so it still has a lot of overclocking spaces.
Using solid capacitors to keep working steadily and for a long life.
Support the latest video output port: DisplayPort
OverView:
Chip: NVIDIA GeForce9600GT GPU
Core Clock: 650MHZ
Memory Clock: 1800MHZ
Memory Bandwilth: 256BIT
Memory Module: GDDR3 FBGA 1.0NS
Interface: DVI+VGA+DisplayPort – compatible with HDMI (HDTV) & DVI
PCB Size: 66mmX221mm, 8 layers PCB
cooling system: With Heat-Pipe, Quiet & Efficient
The Bracket for Mini case is inc by delivery
Accessories: 1* User's Guider, 1* Driver CD, 1* Power Commutator cable, 1* SPDIF connect cable, 2* brackets
INFORMATION ABOUT DisplayPort:
DisplayPort is a digital display interface standard (approved May 2006, current version 1.1 approved on April 2, 2007) put forth by the Video Electronics Standards Association (VESA). It defines a new license-free, royalty-free, digital audio/video interconnect, intended to be used primarily between a computer and its display monitor, or a computer and a home-theater system. It supports a maximum of 10.8 Gbit/s data rate and WQXGA (2560×1600) resolution over a 3 meter cable.
The DisplayPort connector supports 1 to 4 data pairs in a Main Link that also carries audio and clock signals, each with a transfer rate of 1.62 or 2.7 Gbit/s. The video signal path supports 6 to 16 bits per color channel. A bi-directional auxiliary channel (at a constant 1 Mbit/s) carries management and device control data for the Main Link using VESA EDID and VESA MCCS standards. The video signal is not compatible with DVI or HDMI, but a DisplayPort connector can pass these signals through. While DVI and HDMI require separate clock signals, DisplayPort embeds the clock in the data signal. The data transmission protocol in DisplayPort is based on micro packets and is extensible for future feature additions, whereas DVI/HDMI transmission protocol is a Serial Data Stream at 10x pixel clock rate. Finally, unlike the separate DVI/HDMI and LVDS standards, DisplayPort supports both external (box-to-box) and internal (laptop LCD panel) display connections.
There are several companies stated to support DisplayPort: AMD, Analogix, Dell, Genesis Microchip, Hewlett-Packard, Hosiden Corporation, Integrated Device Technology, Intel, Lenovo, Luxtera, Molex, NVIDIA, NXP Semiconductors, Philips, Parade Technologies, Samsung, Quantum Data, Texas Instruments, and Tyco Electronics.