(Auszug aus der Pressemitteilung)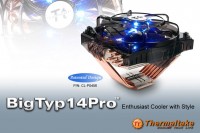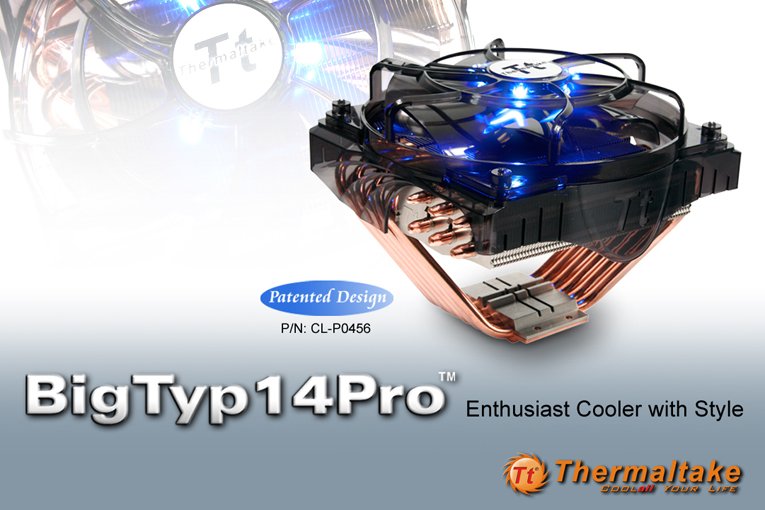 Sep, 2008 – To meet the needs of DIY enthusiasts and gamers, Thermaltake has been continuously putting efforts in developing high performance and silent cooling solutions. The BigTyp™ series is one of their most well-known successes. And now, Thermaltake proudly introduces another latest member of the series, BigTyp™ 14Pro, available in October!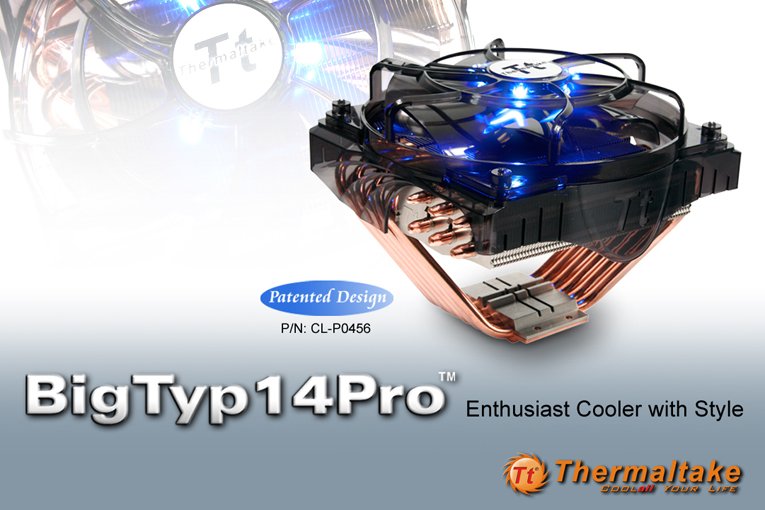 BigTyp14Pro is without a doubt an impressive upgrade; the innovative stream shaped fan cover is not only there for styling purpose, but it also serves to speed up the air circulation. The mirror coating copper base seamlessly contact with the CPU and works with the 6 copper heatpipes to efficiently transfer the heat to the fins and 14cm large fan for heat dissipation process. VR™ fan control has also been included to give users full control over the fan speed for different demands.
The other remarkable feature is the giant 14cm VR™ fan, which maximizes the air flow inside the chamber and delivers unbeatable cooling performance. With BigTyp™ 14Pro, you will be able to achieve the highest overclock performance easily. Another best thing is the silent operation that BigTyp14 Pro delivers, having only 16dBA noise output at low fan speed, you will be able to enjoy the best gaming environment without the endlessly annoying fan noise!
Top PC users have been looking for high performance cooling solutions with silent operation. Thermaltake BigTyp14 Pro is one excellent CPU cooler fulfilling these extreme demands and providing the silence and marvelous cooling performance never experienced.