(Auszug aus der Pressemitteilung)


TIBURON, CA-October 27, 2008 – Jon Peddie Research (JPR), the industry's research and consulting firm for graphics and multimedia, today announced estimated graphics shipments and supplier market share for the third calendar quarter of 2008.
GPUs are used in industrial and medical systems, point of sale terminals, kiosks, digital signs, and PCs. More than one GPU is being used in over one third of all PCs being shipped today. In Q3'08 over a 111 million GPUs were shipped.
During the same quarter last year, only 91 million GPUs shipped, and 94 million units shipped in the previous quarter. That's an annual increase of 22.5 percent and a quarter-to-quarter increase of almost 18 percent, as shown in Table 1.
It's the largest increase in quarter to quarter shipments in six years.



Table 1: Growth rates from Q2 to Q3 from 2001 to 2008
TOTAL MARKET
Market shares shifted for the big three, AMD, Intel and Nvidia, and put pressure on the smaller three, Matrix SiS and VIA/S3, and still almost everyone showed an increase in shipments as indicated in Table 2.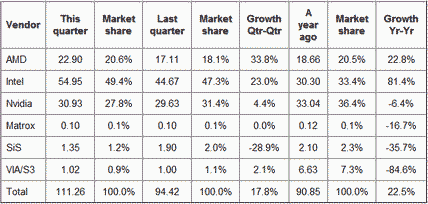 Table 2: Total Graphics Chip Market shares for Q3'08
DESKTOP
For desktop GPUs Intel increased its first place position to 43.9% share while Nvidia's position slipped to 32.6% and AMD climbed up to 20.3%.
Desktop GPUs saw an increase of 4.7% this quarter to 61.9 million units.
NOTEBOOKS
In the notebook GPU market Intel GPU shipments dropped one point to 56.2% while Nvidia GPU shipments declined to 21.8% and AMD jumped to 20.9% as shown in Table 3.
Notebook chips soared almost by 40% quarter-to-quarter to 49.4 million units, to claim 44.4% of the market.



Table 3: Market share in notebook graphics chips for Q4 2007 to Q3 2008
"The third quarter is seasonally up as OEMs place orders for chips to build inventory for the holiday season. However, this quarter was up more than any other for some time, and in spite of suggestions of a recession that started last Q4," said Dr. Jon Peddie, president of Jon Peddie Research in Tiburon California. "Desktops increased seasonally and notebooks enjoyed quite significant gains."
Peddie notes that Q4'08 will be an interesting quarter as AMD and Nvidia are not expected to release any more new GPUs given the large number of introductions in the last three quarters, and Intel and AMD have stabilized on their integrated offerings.
Further, says Peddie, although there was amazing growth in Q3 this year, the gloom and doom scenarios are having their effect on business and consumer spending plans, and while Q4 is usually the crescendo of the year, it could well be flat (compared to Q3) this year.
Pricing and Availability
The Q2'08 edition of Jon Peddie's Market Watch is available now in both electronic and hard copy editions. The annual subscription price for Jon Peddie's Market Watch is $3,500 and includes four quarterly issues. Full subscribers to JPR services receive Tech Watch (the company's bi-weekly report) and a copy of Market Watch as part of their subscription.