(Auszug aus der Pressemitteilung)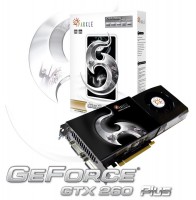 Taipei, Taiwan – Oct 27, 2008 – SPARKLE Computer Co., Ltd., the professional VGA card manufacturer and

supplier, today announced the SPARKLE GeForce GTX 260 Plus Graphics Card, getting high-end gamers
pulled deeper into the gaming experience and HD video than ever before.
Second-Generation Unified Shader and Compute Architecture
The SPARKLE GeForce GTX 260 Plus Graphics Card is the first to implement NVIDIA's secondgeneration
unified shader and compute architecture. The SPARKLE GeForce GTX 260 Plus
Graphics Card includes significantly enhanced features and deliver, on average, 1.5x the
performance of GeForce 8 or GeForce 9 series GPUs. The SPARKLE GeForce GTX 260 Plus
Graphics Card adopts Lumenex Engine, providing full 128-bit floating point precision through the
entire rendering pipeline, achieving 128-bit floating point high dynamic-range (HDR) lighting with
antialiasing.
Incomparable Graphical Immersion
Compared with ordinary GeForce GTX 260 graphics cards on market, SPARKLE GeForce GTX
260 Plus Graphics Card brings additional 24 stream processors and 8 Texture Filtering Units, which
enables high-end gamers to enjoy incomparable graphical immersion in latest DX10 gamessuch as
Gears of War, Bioshock, Crysis and so on. SPARKLE GeForce GTX 260 Plus graphics card brings
doughty gaming performance to high-end gamers with 576MHz core speed, 216 1242MHz stream
processors and 448-bit 1998MHz 896MB GDDR3 video memory. With the powerful performance of
the SPARKLE GeForce GTX 260 Plus graphics card, now DX10 gamers will be able to enjoy
exhilarating action-orientated gaming experiences within a highly detailed, open environment.
3-Way SLI Support
The SPARKLE GeForce GTX 260 Plus Graphics Card supports NVIDIA 3-way SLI technology,
which provides even higher frame rates and permits higher quality settings for the ultimate
experience in PC gaming when connected to a high-end, high-resolution monitor.
2nd Generation PureVideo HD
High-definition video decoder and post-processor delivers unprecedented picture clarity, smooth
video and accurate color for movies and video.
NVIDIA HybridPower technology
Utilize HybridPower technology to enable users to switch their graphics card to their motherboard
GeForce GPU when surfing the Web, working or running less graphically intense applications.
Cooling System
Exquisitely made cooling fans, which have high performance thermal compound ensures optimal
thermal dissipation even after years of use.
Full Microsoft ® DirectX ® 10 support
World's first DirectX 10 GPU with full Shader Model 4.0 support delivers unparalleled levels of
graphics realism and film-quality effects.
NVIDIA™ PhysX
GeForce GPU support for NVIDIA PhysX technology, enabling a totally new class of physical gaming interaction
for a more dynamic and realistic experience with GeForce.
NVIDIA™CUDA Technology
CUDA technology unlocks the power of the GPU's processor cores to accelerate the most demanding system tasks such as video transcoding delivering up to 7x performance over traditional CPUs.