(Auszug aus der Pressemitteilung)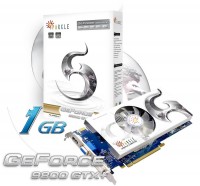 Taipei, Taiwan – December 19, 2008 – SPARKLE Computer Co., Ltd., the professional VGA card manufacturer and supplier, today proudly introduced the SPARKLE GeForce 9800 GTX+ 1GB Graphics Card, with incredible large 1GB GDDR3 video memory, it takes gaming graphic beyond anything that's ever been possible before on a mainstream consumer computing platform.
1GB Extreme Large-capacity GDDR3 memory
Today's game, such as GTA IV,Crysis, Alone in the Dark 5, Stalker: clear sky, they normally use a
large number of bump texture, transparent texture to describe faces of characters and render
realistic gaming scenes, so these games put higher demands on the capacities of video memory.
The current situation demands at least 512 MB video memory to run these games. Compared with
ordinary GeForce 9800 GTX + graphics cards on market, the SPARKLE GeForce 9800 GTX+ 1GB
Graphics Card comes with incredible large 1GB GDDR3 video memory, making them to be first
batch of 9800 GTX+ graphics cards in the world with 1GB video memory. The SPARKLE GeForce
9800 GTX+ 1GB Graphics Card can let mainstream users to pass the 3DMark Vantage High Test
which strictly demand at least 512MB video memory, providing much more detail information to
mainstream users for better understanding its graphics capability.
2nd Generation PureVideo HD
High-definition video decoder and post-processor delivers unprecedented picture clarity, smooth
video and accurate color for movies and video.
Native HDMI Support
keeping pace with HD tideway, SPARKLE GeForce 9800 GTX+ Graphics Cards feature brand new
stepping for providing native HDMI support. They can deliver vivid HD gaming audio and video
through one single cable, provide more convenience to pc games and video enthusiasts to play
games or watch HD videos on their HDTV
Cooling System
Exquisitely made cooling fans, which have high performance thermal compound ensures optimal
thermal dissipation even after years of use.
Full Microsoft ® DirectX ® 10 support
World's first DirectX 10 GPU with full Shader Model 4.0 support delivers unparalleled levels of
graphics realism and film-quality effects.
NVIDIA™ PhysX
GeForce GPU support for NVIDIA PhysX technology, enabling a totally new class of physical gaming interaction
for a more dynamic and realistic experience with GeForce.
NVIDIA™CUDA Technology
CUDA technology unlocks the power of the GPU's processor cores to accelerate the most demanding system
tasks such as video transcoding delivering up to 7x performance over traditional CPUs.