(Auszug aus der Pressemitteilung)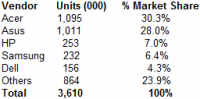 LONDON, February 16, 2009 – Following a major surge in the back-to-school season, mini-notebook momentum continued unabated in the final quarter of the year. Thanks to robust consumer demand in Western Europe in the run up to Christmas, overall EMEA mini-notebook shipments reached 3.6 million units, in line with expectations, representing 20% of total portable sales and 30% of consumer portables in EMEA in 4Q08.
Positioned as a secondary device for Internet-centric use and representing the first affordable ultraportables in the retail channel, mini-notebooks drove strong consumer momentum and resulted in a major sales boom in 2H08.
"As expected, mini-notebooks were one of the most sought-after items in the Christmas season, particularly in Western Europe, which represented over 80% of volumes," said Eszter Morvay, research manager at IDC's EMEA personal computing group. "Driven by strong vendor and channel push, consumers benefited from the plethora of new models appearing on the shelves from October onwards, and the explosion in the product offering stimulated fierce competition for shelf space. Following in the footsteps of Asus, there are currently more than 50 vendors, from international players to local assemblers, with a mini-notebook offering across EMEA, which is clearly contributing to the ongoing buoyancy."
The telco channel has also been playing a pivotal role in the development of the EMEA mini-notebook market. While telco operators have been looking at the notebook market for some time to drive new revenue sources, mini-notebooks offer a better fit in terms of value proposition — small and attractive products at lower price, therefore lower subsidy costs. Telco operators also offered additional exposure, which acted as a major accelerator of mini-notebook demand.
Vendor Highlights
Acer has made a strong push in the EMEA mini-notebook market since the Aspire One was launched in June. Although its primary focus is the retail channel, the vendor has also been working on building its presence in the telco channel, partnering with the likes of Phone House, T-Mobile, TIM, and TMN. In addition to the successful Aspire One series, Acer also launched the Packard Bell Dot in October 2008. However, focusing solely on the 8.9in. segment, the vendor is facing increasing competitive pressure from the growing success of 10in. mini-notebooks.
Asus maintained a key position in EMEA, boasting the largest and most complete product portfolio, and continued to play a pivotal role in the market from a branding standpoint. In 4Q08, Asus continued to enjoy strong demand for the Eee PC family and benefit from a large and expanding number of telco partnerships across EMEA, with SFR in France and TIM in Italy being the largest from a volume perspective.
Hewlett-Packard took third place in the EMEA mini-notebook market, helped by the launch of its first consumer mini-notebook, the Compaq Mini 700, in December. The commercial-focused HP2133 saw gradual uptake, due to the higher price and lack of retail presence, but it benefited from several telco deals across the region, including Bouygues, Cosmote, Elisa, and Mobistar.
Samsung was a newcomer to the mini-notebook market in 4Q08, launching the NC10 in October 2008. The product received excellent reviews and enjoyed rapid uptake across EMEA. In addition to strong retail demand, Samsung also benefited from several telco deals, including Phones 4u, T-Mobile, and Vodafone.
Dell introduced the Inspiron Mini in September 2008, launching it across most EMEA countries throughout 4Q08. The vendor continued to work with its key retail partners DSGi, Carrefour, and Tesco, while also benefiting from its EMEA-wide partnership with Vodafone.
Top 5 Vendors: EMEA Mini-Notebook Shipments, 4Q08


Source: IDC EMEA Quarterly PC Tracker, Final Results, 4Q08
Market Outlook
IDC expects sustained buoyancy in the EMEA mini-notebook market in the coming quarters, and robust double-digit growth in 2009. Strong vendor push will undoubtedly remain one of the key market drivers. Most vendors are working on expanding their product portfolios with increased distinction between entry-level, mainstream, and even higher-end models. Mini-notebooks will also continue to evolve both from a technology and design standpoint. The shift towards 10in. will continue and is expected to dominate the market in 2009, and we will see the first convertible models with touchscreens appear later this year.
Market dynamics will remain driven by consumer demand, but improving specifications, larger screens, and integrated 3G will make mini-notebooks more appealing to businesses as well. The education sector will be another growth opportunity in the long term. There are already several projects running in the U.K. and Russia, for example, and demand is expected to rise in an effort to promote one-to-one computing across the region.
IT and telco convergence will gain further momentum in 2009. Most vendors have already set up partnerships with key pan-European operators, and will continue to expand this year, targeting second- and third-tier operators in each country. The market will also see a shift from USB to integrated 3G, supported by the plethora of new models coming out with this functionality.
IDC believes the mini-notebook market will be a key growth opportunity in EMEA in 2009 amid the ongoing global economic recession, and will contribute to the sustained expansion of the EMEA portable PC market. However, mini-notebooks will continue to shake the industry from both a go-to-market and a pricing perspective. Mini-notebooks have proven that miniaturization does not have to cost a fortune, and will force vendors to rethink their ultraportable offerings and pricing. New initiatives from AMD, Intel, and Microsoft will also help the industry to reinvent ultraportables in a more affordable packaging.