(Auszug aus der Pressemitteilung)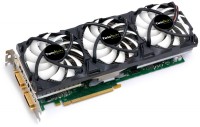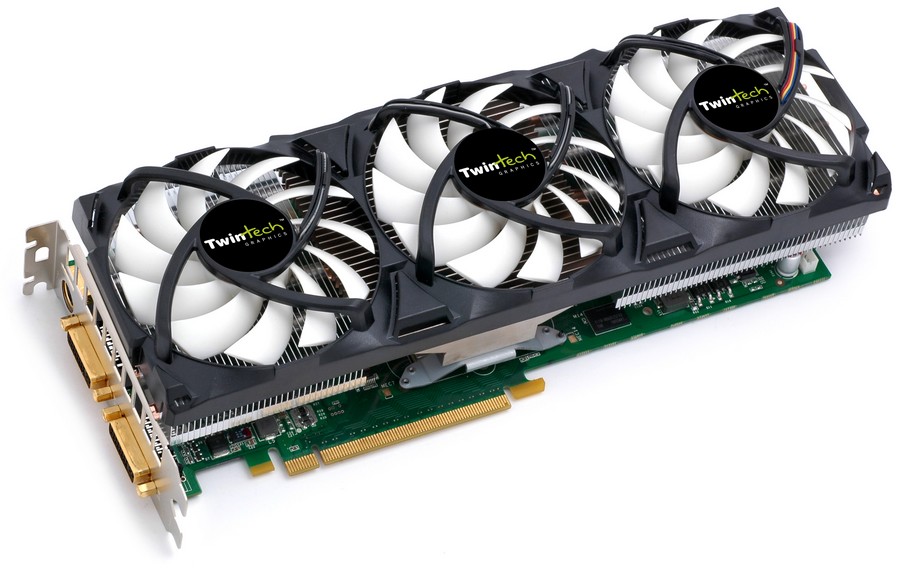 Hong Kong, 2-Apr, 2009 – TWINTECH, world-leading producer of high quality

graphic solutions, has today announced the TWINTECH™ GTX275 896MB &
1792MB with 240 stream processing Experience best-in-class graphics
performance in the hottest games such as Warhammer 40,000: Dawn of War II
and Far Cry 2. And with full GPU-acceleration for NVIDIA PhysX™ technology,
GeForce GTX 275 will change your 3D gaming experience by bringing
dynamic forces of nature and massively destructible environments to games
such as Sacred 2 and Mirror's Edge. With GeForce GTX 275, get the graphics
plus physics performance that your games demand.
The GeForce GTX 275 GPU with CUDA™ technology not only provides
astonishing gaming performance, but it also delivers incredible GPU
computing performance for everything from video transcoding to video and
photo editing. Whether it's transcoding HD videos in minutes to your
portable video player using Badaboom, upscaling standard definition movies
to near HD quality with Arcsoft SimHD, or rapidly editing digital photos using
Adobe CS4, the GeForce GTX 275 GPU does it all with outstanding
performance.
TWINTECH™ has also released GeForce GTX275 896MB / 1792MB XT OC Edition
the core clock increased to 670MHz from 633MHz and memory clock
increased to 2320MHz from 2268MHz. allowing users to enjoy better
performance. In additional, TWINTECH GTX275 also provide AC Accelero
XTREME 3 ultra quiet 92mm PWM Fan overclocking potential and extends the
Edition, which gives enthusiasts a very promising result, also maximizes the
service life of TWINTECH ™GTX275 XT OC Edition Graphics Card.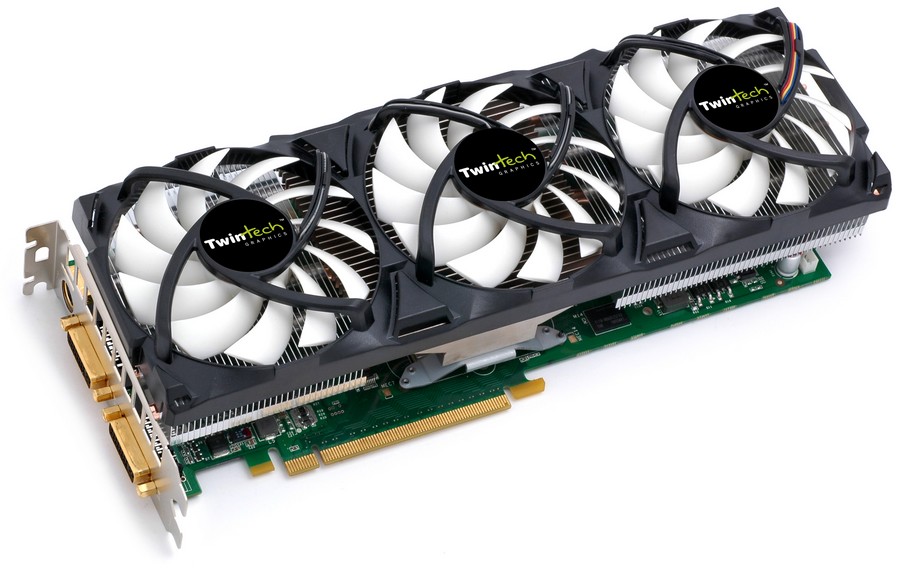 Specifications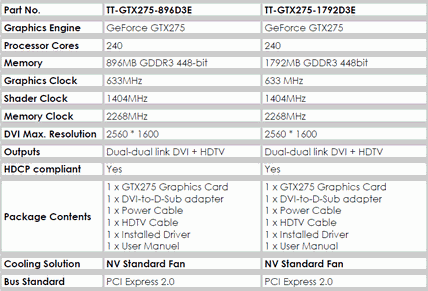 Specifications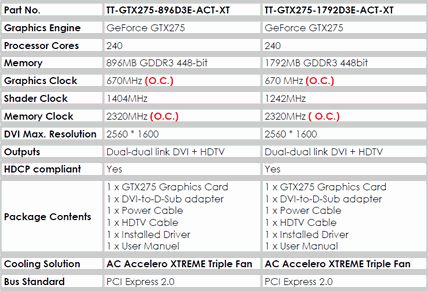 PRODUCT FEATURES:
Arctic Cooling Accelero XTREME
Unmatched Cooling Performance:
Featuring 5 heat pipes and Three ultra quiet 92mm
PWM fans with low noise impeller. Together with
memory and voltage regulator cooling, this new AC
Accelero XTREME cooler gives enthusiasts a very
promising result, also maximizes the over clocking
potential and extends the service life of TWINTECH
™GTX275 Graphics Card.
2nd Generation NVIDIA® Unified
Architecture
Second generation architecture delivers 50% more
gaming performance over the first generation
through enhanced processor cores that provide
incredible shading horsepower
3-way NVIDIA SLI® Technology
Industry leading 3-way NVIDIA SLI technology offers
amazing performance scaling by implementing
3-way AFR (Alternate Frame Rendering) for the
world's premier gaming solution under Windows
Vista with solid, state-of-the-art drivers.
Microsoft DirectX 10 Support
DirectX 10 GPU with full Shader Model 4.0 support
delivers unparalleled levels of graphics realism and
film-quality effects for today's hottest games
NVIDIA CUDA™ Technology
CUDA technology unlocks the power of the GPU's
processor cores to accelerate the most demanding
system tasks – such as video transcoding – delivering
up to 20x performance over traditional CPUs
PCI Express 2.0 Support
Designed for the new PCI Express 2.0 bus
architecture offering the highest data transfer
speeds for the most bandwidth-hungry games and
3D applications, while maintaining backwards
compatibility with existing PCI Express motherboards
for the broadest support.
NVIDIA SLI® Multi-Monitor support
Switch seamlessly between multi-display desktop
mode and full screen 3D gaming with SLI. And
enjoy full multi-GPU support for dual-display
capable 3D games such as World in Conflict,
Supreme Commander Forged Alliance, and Flight Simulator X
GigaThread™ Technology
Massively multi-threaded architecture supports
thousands of independent, simultaneous threads,
providing extreme processing efficiency in
advanced, next-generation shader programs
NVIDIA Lumenex™ Engine
Delivers stunning image quality and floating point
accuracy at ultra-fast frame rates
16x Anti-aliasing Technology
Lightning fast, high-quality anti-aliasing at up to 16x
sample rates obliterates jagged edges.
28-bit floating point High
Dynamic-Range (HDR) Lighting
Twice the precision of prior generations for
incredibly realistic lighting effects—now with support
for anti-aliasing.
OpenGL 3.0 Optimization and
Support
Provides top-notch compatibility and performance
for OpenGL applications.
Dual Dual-link DVI Support
Able to drive the industry's largest and highest
resolution flat-panel displays up to 2560×1600 and
with support for High-bandwidth Digital Content
Protection (HDCP).iii
HDMI Outputi
Support for HDMI output enables sending both
high-definition video and audio signals to an HDTV
via a single cable.
NVIDIA® PureVideo® HD Technologyv:
The combination of high-definition video decode
acceleration and post-processing that delivers
unprecedented picture clarity, smooth video,
accurate color, and precise image scaling for
movies and video.
Discrete, Programmable Video Processor
NVIDIA PureVideo is a discrete programmable
processing core in NVIDIA GPUs that provides
superb picture quality and ultra-smooth movies with
100% offload of H.264 video decoding from the CPU
and significantly reduced power consumption.
Dual-stream Hardware Acceleration
Supports picture-in-picture content for the ultimate
interactive Blu-ray movie experience.
Dynamic Contrast Enhancement & Color Stretch
Dynamically provides post-processing and
optimization of High Definition movies for
spectacular picture clarity.