(Auszug aus der Pressemitteilung)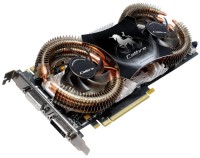 Taipei, Taiwan – June 12, 2009 – SPARKLE Computer Co., Ltd., the professional VGA card manufacturer and supplier, today unveils the Calibre X265/X265HM Graphics Card, providing

unparalleled DX10 gaming performance for mainstream gamers with non-reference PCB design and excellent cooling system.
World's First Graphics Card with Pillars
Traversed Cooling Fins Technology
The Calibre X265/X265HM Graphics Cards features the
2nd generation of Calibre Dual Fly Cooling System by
SPARKLE own design. It's the world's first Graphics
Card with pillars traversed cooling fins technology
which provides ultimate graphics cards cooling solution
for users who seek higher graphics performance and
lower working temperatures. The cooling system
consists of
pure aluminum thermal base, 2 high-efficient heat pipes with 6mm diameter, 2 high-efficient
heat pipes with 8mm diameter, the 9 aluminum pillars traversed heatsinks and dual low speed
cooling fans. These 4 high-efficient heat pipes connect the surface of the GPU directly,
providing the cooling transfer effect of 8 heat pipes. The technique of pillars traversed can
quickly bring the heat from aluminum pillars to the 8 layer cooling fins by direct contact. The
perfect combination of the heat pipes and the pillars traversed cooling fins technology
provides superior cooling efficiency and greatly enhances the cooling performance of GPU,
video memory ,MOS circuit and NVIO on the PCB, let gamers to enjoy good overclocking
margin and cooler GPU, guarantees stable system operation even under round-the-clock full
load gaming.
Experience Vivid DX10 Graphics
Experience the vivid DX10 gaming graphics at mind blowing frame rates, or go beyond
traditional 3D graphics and experience GPU-accelerated NVIDIA® PhysX™ gaming effects,
Stereoscopic 3D, and lightning fast video and image processing. All you need is the Calibre
X265/X265HM Graphics Cards with unique non-reference PCB design, the approximating
performance to GTX 275 and amazing cooling system.
Untouchable 3D Performance
The Calibre X265/X265HM Graphics Cards features 55nm chip process from TSMC. So
It has groundbreaking speeds compared with ordinary GeForce GTX 260 Graphics Cards on
market, the core speed is raised from 576MHz to 666MHz, the shader clock is raised from
1242MHz to 1476MHz, making its 3D performance better than nVIDIA reference GTX 260
graphics cards and closer to the performance of GTX 275 graphics cards, delivering unrivaled
graphics performance in the hottest games including Far Cry 2, Mirror's Edge, and Call of Duty
5: World at War. The Calibre X265/X265HM Graphics Cards adopts Calibre black PCB design,
providing enhanced power circuitry with more phases of vGPU power circuit and vMem circuit.
Also it only uses solid capacitors with lower power loss, providing more stable and longer
product lifespan.
Extreme Fast Large-Capacity GDDR3 Memory
Today's game, such as Crysis, Alone in the Dark 5, Stalker: clear sky, they normally use a
large number of bump texture, transparent texture to describe faces of characters and render
realistic gaming scenes, so these games put higher demands on the capacities of video
memory. The current situation demands at least 512 MB video memory to run these games.
Calibre X265/X265HM Graphics Cards comes with incredible large 896MB GDDR3 video
memory can let mainstream users to pass the 3DMark Vantage High Test which strictly
demand at least 512MB video memory, providing much more detail information to
mainstream users for better understanding its graphics capability.
Convenient SPA Tune OC Software
The Calibre X265/X265HM Graphics Cards is bundled with convenient SPA Tune, an own
designed software, effectively balancing the computing power and power consumption. It
provides three mode transition buttons for Overclocking mode (OC), standard mode (STD)
and green mode (GRN). The OC mode provides high speed, best performance and more
power consumption. The STD mode brings standard performance and lesser power
consumption. The GRN mode provides the energy saving and green power consumption.
Every mode sets up one team specification contains: Core Clock (MHz), Memory Clock
(MHz), Shader Clock (MHz), GPU Temperature ( ℃) and Fan Speed.
NVIDIA 3D Vision Support
The Calibre Graphics Cards supports GeForce Stereoscopic 3D Technology from NVIDIA,
which is market complete hardware and software kit for gamers built by NVIDIA for the 3D
stereoscopic gaming market. It will immerse gamers in the world of 3D content like never before.
Monsters, bullets, and landscapes jump out of gamers' flat monitors and into their imagination,
making them part of the game. With NVIDIA GeForce Stereoscopic 3D driver technology,
gaming will never be the same. Now with support for Microsoft Windows Vista and the Calibre
X265/X265HM Graphics Cards, gamers can play the hottest games and feel like they're part of
the action rather than watching it happen!
2nd Generation PureVideo
HD High-definition video decoder and post-processor delivers unprecedented picture clarity,
smooth video and accurate color for movies and video.
3 Way SLI Support
The Calibre X265/X265 HM Graphics Cards support NVIDIA 3-way SLI technology, which
provides even higher frame rates and permits higher quality settings for the ultimate
experience in PC gaming when connected to a high-end, high-resolution monitor.
NVIDIA™ PhysX
Calibre X265/X265 HM support for NVIDIA PhysX Technology, enabling a totally new class of
physical gaming interaction for a more dynamic and realistic experience.
NVIDIA™CUDA Technology
CUDA technology unlocks the power of the GPU's processor cores to accelerate the most
demanding system tasks such as video transcoding delivering up to 7x performance over
traditional CPUs.