(Auszug aus der Pressemitteilung)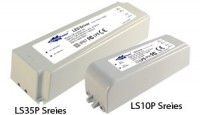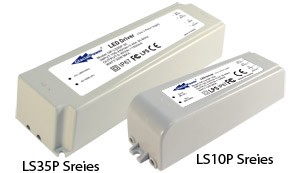 6 October 2009, Taiwan, Taipei – GlacialTech Inc, the global provider of PC Cooling, Power supplies, Power drivers and LED lighting has leveraged quality products under the GlacialPower brand with their innovative Light Emitting Diode (LED) Drivers. The LS10P/35P Series is specifically designed to work in conjunction with LED Tubes and Lightbars, and regulates the voltage and power consumption in the most economical way. The benefits of the LS10P/35P series include the ability to dim the LED's. Many LEDs available on the market will not work after you have dimmed them, but GlacialPower ensures that the LED will continue to function, even after you have dimmed the lights. The added benefit of extreme safety measures including a thorough burn-in test and also a 1 year warrantee ensure a quality product from the GlacialTech Company. The Power Correction Factor (PCF) of the power driver is also highly specialized and maintains a clean and pure voltage/current ratio to prevent disruption to the power which in turn prevents the LED from deteriorating over time. This added feature enhances the life of your LED's and ensures lower power consumption.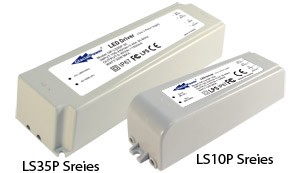 Highlights of the LS10P/35P Series LED Power Driver
Universal AC input 90~264VAC
Designed with PFC function≥0.9 / 115VAC
Class II power (w/o earth pin)
Protection certifications: SCP / OVP / OLP
Suitable for outdoor use.
Constant current design for Hi-Power LED applications
Plastic Insulation cover with IP67 level
100% Burn-In test and 1 year warranty
Dimming control (PWM / DC) available
Wide product range
GlacialTech is developing a comprehensive range of products under the GlacialPower brand, in conjunction with GlacialLight. The LS10P/35P Power Driver series is the next step in providing greener solutions for low power consumption while giving the highest benefits such as constant current and stable voltage for the LED light source. The current models available include 12W versions with 13-36VDC output and 7-18VDC output. The 35W version outputs 5-31VDC, or 5-48VDC. The dimming function is optional and those models are available from 4-35VDC in the 12W range, whereas the 35W version has output voltage of 5-42VDC. All the LS10P/35P series products and specifications are available on the GlacialPower website here.
Glacialpower will going to launch DC-DC regulator series which are design with DC input and dimming function for both.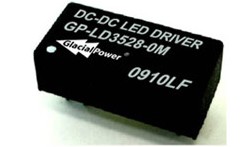 Features
RoHS-compliant 14 Pin DIL Package (Row Dist:5.08mm)
Constant Current Output (+/-5% Output Current Accuracy)
Wide Input Voltage Range:7V to 30V (40V for 0.5sec.)
Driver LED Strings of up to 28V (2V to 28V)
High Efficiency (up to 95%)
PWM/Digital Dimming and Analog Voltage Dimming
Open and Short LED Protection
-40°C ~ 85°C Operation Temperature Range
DC-DC LED Constant Current Regulator
95% Hight Efficiency Step Down LED Driver (With Dimming Function)