(Auszug aus der Pressemitteilung)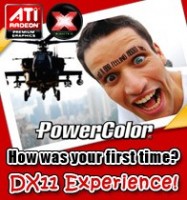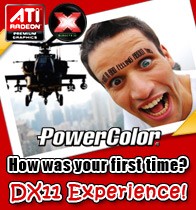 Taipei, Taiwan –January 18th, 2010 – TUL Corporation, a leading manufacturer of AMD graphics cards, announced "How was your first time? DX11 experience!" competition. Starting today gamers can share reactions to their DX11 experience and win prizes.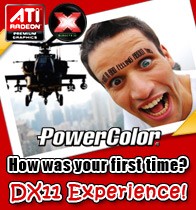 We all know that people react differently from one experience, and this competition is about that. Gamers can share their own DX11 experience by uploading a picture that could describe their first reaction to that experience. From January 18th to January 31th, gamers can upload their picture of their first DX11 moment on contest webpage and share it in 4 different communities in hope their picture is the most original of all and be selected to the final where the 4 communities' winners will go into direct competition in a worldwide voting.
For the worldwide winner who beats other original pictures from the other 3 communities will go with our recently announced PowerColor PCS+ HD5870; and for the other 3 photos join the final and represent the most original pictures selected by the communities will also be awarded with our specially designed PowerColor PCS+ HD5770. Both prizes feature an enhanced board design and cooling to provide the most performance through overclocking while maintaining lower temperatures and quiet operation.