(Auszug aus der Pressemitteilung)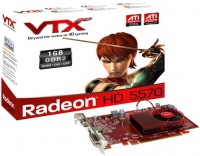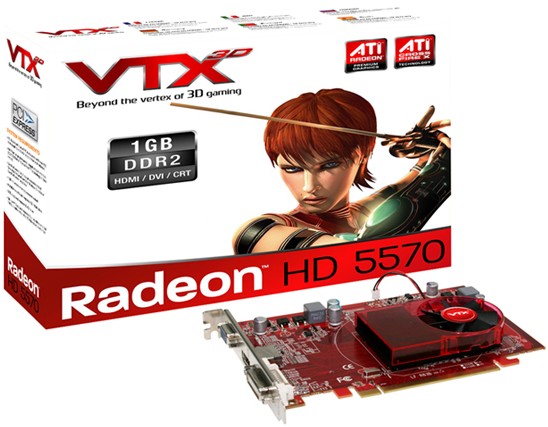 Taipei, Taiwan, February 9th, 2010 – VERTEX3D, a new expected brand of AMD graphics card, today announces the best graphics solution for HD home entertainment: The VTX3D HD5570. The VTX3D HD5570 provides the best in class graphics performance, delivering the smooth frame rates at HD setting and consuming less than 45 watts power even under full load; this enables an easy-to-install and perfect solution for an advanced home entertainment PC.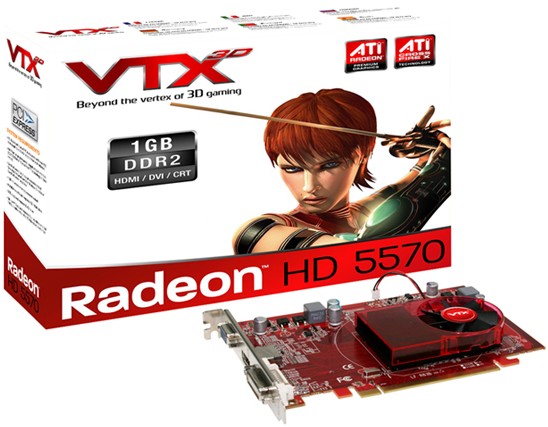 The VTX3D HD5570 also features the newest DirectX® 11 technology, enhancing your home entertainment and offering the vivid, incredible visual experience to all users, allowing a true-to-life HD experience.
Furthermore, the VTX3D HD5570 also takes advantage of ATI Stream technology, enables demanding data parallel compute tasks from the CPU to GPU, accelerates the daily application such as video encoding and transcoding, and get more done in the less time to do more with your PC.
"VTX3D HD5570 is the perfect solution for enhancing your home entertainment experience with DirectX® 11 and Windows® 7;" said Willie Huang, Sales Director of VTX3D, "This is the card which can fulfill your multi-purpose demand and provide the maximum versatility!"