(Auszug aus der Pressemitteilung)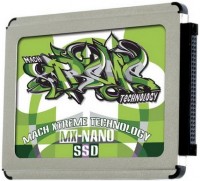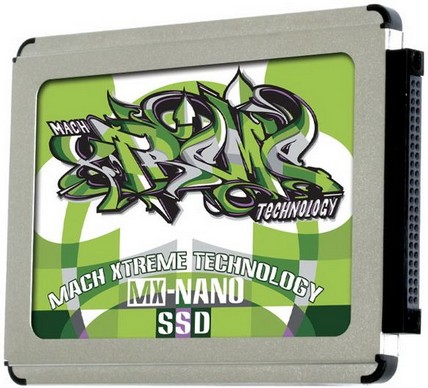 Taipei, Taiwan—May 18, 2010 – Mach Xtreme Technology Inc., a worldwide leader in top performance, high reliability and user-friendly designed PC components, today unveiled MX-NANO Series with world's largest 256MB SDRAM cache memory 1.8" PATA SSD which makes MLC (multi-level cell) NAND-based storage an aordable oering for notebook users demanding performance and energy eciency at an attractive price point.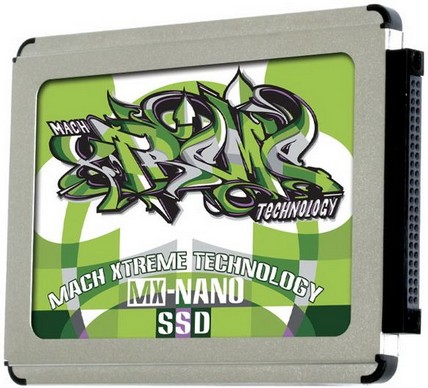 MX-NANO with 50-pin interface
The new MX-NANO Series of 1.8" PATA SSDs that are ideal for upgrading popular notebooks based
on 50-pin, 44-pin or ZIF PATA interface. Combined with industry's leading 256MB cache memory and
ultra-fast access times, these new SSDs deliver double or even triple the performance of the default hard drives in most current notebooks, resulting in substantially faster boot-up, application load and shutdown speeds. It is one of the fastest and easiest ways to upgrade dozens of dierent notebooks and UMPCs to higher performance and more local storage (up to 240GB).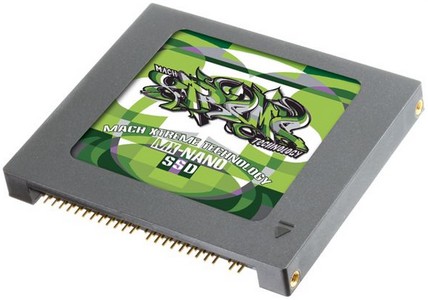 MX-NANO with 44-pin interface
The MX-NANO drive delivers best-in-class read and write speeds clocking in at up to 120MB/s read
and 90MB/s write along with the maximum of 5,200 IOPS and superior durability (1.0 million MTBF)
compared to previous generation notebook drives. Available in 50-pin, 44-pin and ZIF interface
avors and capacities of 30GB, 60GB, 120GB and 240GB, Mach Xtreme Technology MX-NANO SSDs
oer ample room for all your data and comes backed with 1 Year Warranty and outstanding aftersales
service.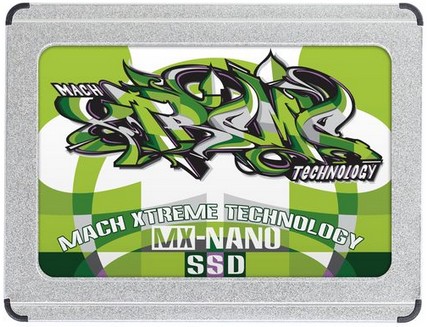 MX-NANO with ZIF interface
MX-NANO Series 1.8" PATA SSD at A Glance:
1.8" PATA (44-pin, 50-pin, ZIF) MLC Solid State Drive
256MB SDRAM cache memory
Max. Read Performance up to 120MB/s (120G/240G)
Max. Write Performance up to 90MB/s (120G/240G)
I/O per second of 5,200 IOPS
Power consumption: stand-by 0.5W / active 1.3W
Life expectancy 1.0 million hours MTBF
50-pin interface capacity: 30GB (MXSSD1MNANO50-30G), 60GB (MXSSD1MNANO50-60G), 120GB (MXSSD1MNANO50-120G)
and 240GB (MXSSD1MNANO50-240G)
44-pin interface capacity: 30GB (MXSSD1MNANO-30G), 60GB (MXSSD1MNANO-60G), 120GB (MXSSD1MNANO-120G) and 240GB (MXSSD1MNANO-240G)
ZIF interface capacity: 30GB (MXSSD1MNANOZ-30G), 60GB (MXSSD1MNANOZ-60G), 120GB (MXSSD1MNANOZ-120G) and 240GB (MXSSD1MNANOZ-240G)
Warranty: 1 Year