(Auszug aus der Pressemitteilung)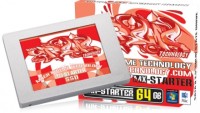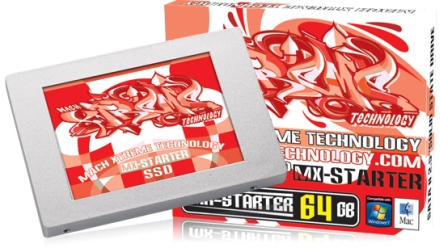 Taipei, Taiwan—June 1, 2010 – Mach Xtreme Technology Inc., a worldwide leader in top performance,

high reliability and user-friendly designed PC components, today launched MX-STARTER
Series 2.5" SSD for mainstream users demanding the latest technology at an aordable price point.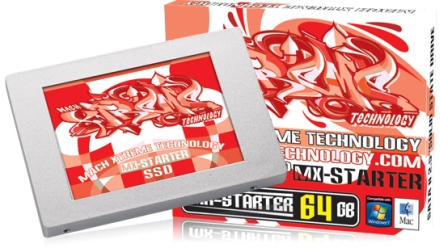 The new MX-STARTER Series of SSDs is the latest addition to the Mach Xtreme lineup of solid state
drives. The MX-STARTER Series of 2.5" SATAII SSDs are ideal for upgrading desktop for all those who
are on a budget. Mach Xtreme recommends adding an SSD option to current desktop PC in a dualdrive
or "boot drive" set up. In a dual-drive conguration, the MX-STARTER solid state drive is added
to a desktop with an existing hard disk drive. Replacing your hard disk drive with MX-STARTER will
revolutionize your computing experience. Games load quicker, your computer starts faster, and
multiple applications run smoother, all while running cool and silent. MX-STARTER is provided at an
incredible value, so the upgrade won't ruin your budget as well.
The MX-STARTER drive delivers best-in-class read and write speeds clocking in at up to 100MB/s
read and 60MB/s write along with the maximum of 10,000 IOPS and superior durability (1.0 million
MTBF) compared to regular hard disk drives. Available in capacities 32GB and 64GB, Mach Xtreme
Technology MX-STARTER SSDs oer ample room for all your boot drive data and comes backed with
1 Year Warranty and outstanding after-sales service.
MX-STARTER Series 2.5" SSD at A Glance:
2.5" SATAII (2.6) MLC Solid State Drive
64MB SDRAM cache memory
Max. Read Performance up to 100MB/s
Max. Write Performance up to 60MB/s
Max. I/O per second of 10,000 IOPS
Power consumption: stand-by 0.5W / active 2.3W
Life expectancy 1.0 million hours MTBF
Capacity: 32GB (MXSSD2MST-32G) and 64GB (MXSSD2MST-64G)
Warranty: 1 Year