(Auszug aus der Pressemitteilung)


AC Ryan, as a market leading, innovative CE manufacturer are going green with the inclusion of only eco-friendly hardrives in the Playon!HD and Playon!DVRHD range of Full HD media players and recorders.

Eco-friendly hard drives will now be the only hard drive included in the Playon!HD and Playon!DVRHD. The Greenlife series of Playon! media players and recorders will be pre-installed with only eco-friendly hard drives that:

The Playon! Greenlife series are now shipping and all packaging for the Playon!HD and Playon!DVRHD models with eco-friendly hard drives will now display the Greenlife sticker.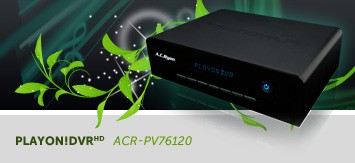 The AC Ryan Playon!DVRHD delivers world first technology. Imagine a home entertainment device that allows you to watch and record different channels at the same time, store and play thousands of your favourite music, movies and photos, all with remote web access. Never miss your favourite program again, simply connect to your Playon!DVRHD via remote web access and schedule your recording. With the unique remote web access you can enjoy and share with your family and friends all your stored music, movies, photos and recorded programmes wherever you are in the world. The Playon!DVRHD combines all the superior Full HD media player functionality you have come to know and love from AC Ryan with digital video recording capabilities. Enjoy your media collection in unsurpassed Full HD 1080p and HD 7.1 audio. The Playon!DVRHD – you'll wonder how you ever entertained yourself without it.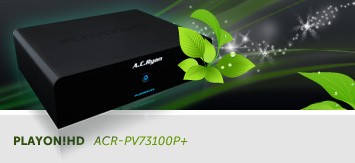 The Playon!HD Full HD media player is the world's First Full HD media player powered by a Realtek processor and paves the way for Full HD home entertainment. Imagine at the touch of a button, your movie, music and photo collection, is brought to life on your TV and through your sound system in unsurpassed Full HD viewing clarity and spine tingling 7.1 HD audio. Get rid of the cluttered home entertainment set-up, free your media library from your PC and conveniently store you entire media library on the Playon!HD low-noise, low-power consumption eco-friendly HDD up to 2TB. With more audio, video and photo file format support than any other player, the Playon!HD is the most highly awarded media player that you and your home entertainment deserve! Engage your senses – Playon!