(Auszug aus der Pressemitteilung)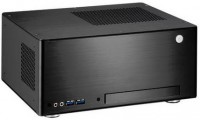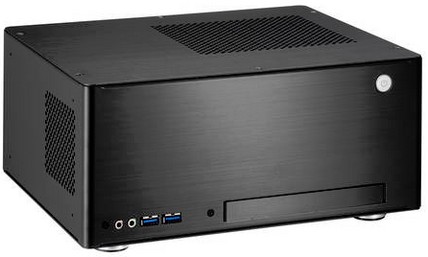 9 September 2010, Keelung, Taiwan – Lian Li Industrial Co. Ltd. today announces two additional Mini-Q Series – PC-Q09 and PC-Q09F. Even more compact and light, Lian Li designed these two new models with space, convenience and style in mind – a combination of art and technology! Both the PC-Q09 and PC-Q09F support Mini-ITX motherboards, and are available in four trendy colors including the eye-catching piano white. With a genuine user-friendly idea, both the PC-Q09 and PC-Q09F are offered with an optional VESA mounting kit, including a foot-stand to support the weight. Users now have the option to easily mount the case on the back of their monitor and turn it into an all-in-one PC.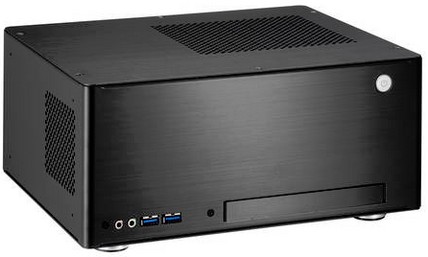 The Lian Li Mini-Q PC-Q09
Dimensioned at 265x110x200mm(W.H.D.) and weights only in 1.4kg, the PC-Q09 features one Slim CD-Rom optical drive, one standard 2.5" hard drive, and one standard 110W Mini-ITX power supply unit with external AC power adapter. Separating out the brick makes the PC-Q09 most slim and light. The Mini-Q PC-Q09 also incorporates the multi-heat zone design for a better thermal solution – one zone on the top to hold the motherboard; one on the lower part to hold the HDD and Slim CD-Rom.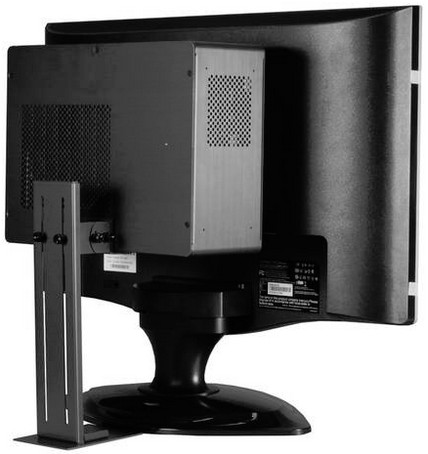 Made with only 1.5mm aluminum alloy, the PC-Q09 has no vibration problem at all. The side panels are secured with screws to reduce the size of the case as well as vibration and noise level. On the other hand, the 2.5" hard drive are mounted with tool-less thumb screw with shock-absorption rubber ring to reduce more noise.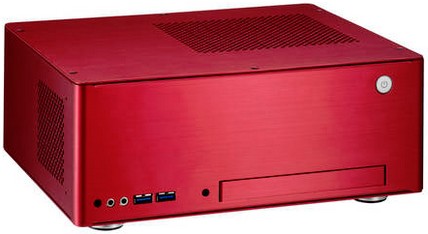 The Mini-Q PC-Q09 has a passive cooling design, with vent holes on the top and side panels to allow air entering and cooling down the system. A 80mm fan is available on the side penal, exhausting the hot air out and fast removing the heat.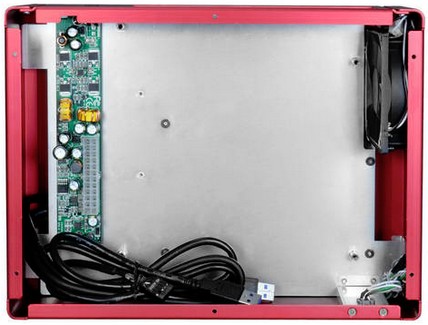 It is worth to mention that the Lian Li PC-Q09 offers the most user-friendly design. Two USB3.0 and HD audio multimedia I/O ports are located right at the front cover allowing easy access. Last but not least, the PC-Q09 offers users a choice to mount the case on the back of their monitor, with the VESA case standard kit, and make the case become an all-in-one PC.
The Lian Li Mini-Q PC-Q09F
The PC-Q09F is dimensioned at 265x124x200mm (W.H.D.) and weights in 2.1kg – slightly heavier and higher than the PC-Q09 due to its built-in 150W Flex ATX power supply unit. Following the same concepts as the PC-Q09, Lian Li's Mini-Q PC-Q09F is also designed with the maximum silent and thermal performance, as well as the friendly feature of installing your system behind your monitor with the optional VESA mounting kit.
Highlights for PC-Q09 (A/B/R/W) & PC-Q09F (A/B/R/W)
Support standard Mini-ITX motherboards
Only 265x110x200mm(W.H.D.) in size for PC-Q09
One standard 2.5″ hard drive
One slim 5.25″ optical drive
One 80mm system fan at the rear
Support two USB3.0 / HD audio multimedia I/O ports
External 110W AC power adapter for PC-Q09; Internal 150W power supply for PC-Q09F
Optional VESA mounting kit for your monitor
Available in four colors: black, silver, red and white
Availability: Arriving at local distributors end of September
MSRP for PC-Q09 (VAT not included): US$169 for PC-Q09A/B (silver/black); US$179 for PC-Q09R/W (red/white)
MSRP for PC-Q09F (VAT not included): US$129for PC-Q09FA/B (silver/black); US$159 for PC-Q09FR (red); US$189 for PC-Q09FW (white)