(Auszug aus der Pressemitteilung)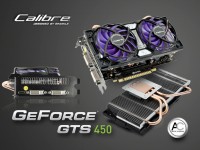 Taipei, Taiwan – September 13 , 2010 – SPARKLE Computer Co., Ltd., the professional VGA card manufacturer and supplier, today introduced the Calibre X450G graphics card with Arctic Cooling Solution,providing extremely cooling performance and powerful gaming experience.
The Architecture For DX11 Gaming
With more gaming horsepower than ever before and 1024MB of memory, the Calibre X450G graphics card's 192 processing cores make DX11 games such as Dirt2, Metro 2033 feel like the real thing.Its powerful NVIDIA PhysX Technology creates rich, immersive physical effects with stunningly accurate realism. Experience absolute immersion and pure performance boost than prior generation GPUs with the the Calibre X450G graphics card.
NVIDIA™CUDA Technology With 192 cores CUDA C/C++ Support and 32 Texture Units
CUDA Technology unlocks the power of the Calibre X450G Graphics Card's 192 processor cores to accelerate the most demanding system tasks such as video transcoding. The 32 Texture Units embedded in the GF106 can dramatically improve the texture processing efficient in latest DirectX 11 games, resulting in higher fps than the competitor's products.
Incredible Detailed Visuals
Experience an unprecedented level of detail and realism in the latest games.Tessellation-one of the biggest new features of Microsoft DirectX11 helps developers create more detailed characters and terrain in games, bringing you sharper, crisper images and a more realistic experience. With great tessellation performance, the Calibre X450G Graphics Card brings your games closer to reality without sacrificing the high frame rates you enjoy. The Calibre X450G Graphics Card also brings stunning gaming effects with cutting-edge Microsoft DirectX 11 graphics and NVIDIA PhysX Technology take gaming to a new level.
Overclock Features Brings Unbeatable DX11 Performance To Mainstream Market
Compared with ordinary GeForce GTS 450 graphics cards on market, the Calibre X450 Graphics Card is overclocked out of box. With 850MHz core speed, 3800MHz memory speed and 1701MHz shader clock, it has 7.5% performance upgrade and take mainstream gamers' DirectX 11 gaming beyond HD.
Cutting-edge Cooling Solution From Arctic Cooling
The Calibre X450G Graphics Card features the Arctic Cooling Solution, with 3 pure copper heatpipes with 6mm diameter,2 big size PWM fans with 92mm diameter and pure aluminum fins that automatically adjusts the fan rotating speed according to the GPU working temperature and dissipate heat up to 11% more efficiently during game play and enable up to 15% quieter operation than the stock fan for GeForce GTS 450 graphic card, delivering more performance and has a higher tolerance for overclocking.The two PWM fans from Arctic Cooling solution bring maximum air flow but operate extremely silence, thanks to the low noise impellor design and the patented fan holder which eliminates the humming noise.
1024MB GDDR5
The Calibre X450G Graphics Card provides incredible large 1024MB GDDR5 video memory to mainstream gamers, to satisfy the rigorous need on the video memory bandwidth, conquering today's hottest DX11 game, such as Stalker: Call Of Pripyat, Metro 2033, even to meet the requirement from 3DMark 11 launched this autumn.
Total Immersion
Breakthrough the boundaries of your screen. Games, movies and photos enter a new visual dimension with the Calibre X450G Graphics Card and NVIDIA 3D Vision Technology.If you would like enjoy more fun of gaming.
SLI Technology Support
The Calibre X450G Graphics Cards supports NVIDIA SLI technology, which provides even higher frame rates and permits higher quality settings for the ultimate experience in PC gaming when connected to a high-end, high-resolution monitor. Users can use ribbon-based soft SLI bridge to get SLI function on the Calibre X450G Graphics Cards to achieve more flexibility and convenience.
3nd Generation PureVideo HD
High-definition video decoder and post-processor delivers unprecedented picture clarity, smooth video and accurate color for movies and video.
OpenGL 4.0 Optimization and Support
Ensures top-notch compatibility and performance for OpenGL applications.
Native HDMI 1.4a Support and Audio Input for HDMI
Fully integrated support for HDMI 1.4a including xvYCC, Deep color and 7.1 digital surround sound. High-definition audio transmission can be realized without spdif wiring.
Calibre 3-years International Warranty
SPARKLE Computer Co., Ltd, is continuously improving product and service quality. High quality components are used for the Calibre X450G Graphics Card to ensure 3 years of reliable performance.
Calibre X450G Graphics Cards Comes with 3 free Applications Bundled.
MAGIX Video Easy, which is the first video editing program for the whole family. It's so easy to use that even beginners without any prior skills will be able to design breathtaking videos in just a short time. Transform recordings of family celebrations, vacations, or special events into video DVDs or present your videos on the Internet with ease.
Calibre X450G also offer Supersonic Sled and Design Garage,2 new, exciting NVIDIA applications which showcase how GeForce and these new products are driving the future of gaming. Supersonic Sled is a timed race game involving a rocket-driven sled on a 6-mile track. It provides a compelling and interactive showcase of DX11 Tessellation, PhysX, CUDA particles, and fluid simulation. Design Garage is new, exciting demonstration of ray tracing technology. Interact with the most exclusive vehicles on the road and create incredibly photo-realistic images. Harness every last bit of GF106 compute power using CUDA accelerated ray tracing.
With these two applications, SPARKLE wants to literally give consumers the keys to the new GF106 architecture. To expose and showcase the new level of interactivity and realism that this architecture enables. Applications so compelling that consumers will spend hours playing with.