(Auszug aus der Pressemitteilung)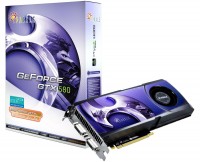 Taipei, Taiwan – November 9, 2010 – SPARKLE Computer Co., Ltd., the professional VGA card manufacturer and supplier, today announced the SPARKLE GeForce GTX 580 Graphics Card, the fastest Graphics Card on the planet which give users game a adrenaline shot.
The Vapor Chamber Cooling Design
Implemented cooling solution based on Vapor Chamber Technology, the SPARKLE GeForce GTX 580
Graphics Card runs not only cooler but also much quieter and provides more headroom for users to
explore performance tweaking ! Vapor Chamber Technology is based on the same principles as heatpipe
technology. A liquid coolant is vaporized at a hot surface, the resulting vapor is condensed at a cold
surface then the liquid is returned to the hot surface. The recirculation process is controlled by a wick
system. The coolant is water – but because the chamber is evacuated to a very low pressure, the
vaporization process occurs at a much lower temperature than normal boiling point. The complex wick
arrangement inside the module controls the flow of water and water vapor so that the system can be used
in any orientation. The GeForce GTX 580 GPU heats Vaporization Wicks. Working fluid, pure water, is
easily vaporized due to the extreme low pressure (<104 Tor or less). Water vapor moves easily through the vacuum until it meets the condensing wick - adjacent to the cooled surface - and turns back to a liquid state. The liquid is then absorbed by the Transportation Wick by capillary action and moved back towards the Vaporization Wick. The Vapor Chamber Cooling Design of the SPARKLE GeForce GTX 580 Graphics Card is much more efficient than a copper heatsink at carrying away the heat because the whole area effectively transfers heat at the same rate. The Next Generation Gaming Architecture
The SPARKLE GeForce GTX 580 Graphics Card brings a host of the next
generation of gaming calculation – GF110 never before offered for the PC —
including tessellation, DirectCompute and all other DirectX 11 hardware
features. GF110 architecture is specifically designed to support next generation
gaming effects such as raytracing, order-independent transparency, and fluid
simulations. By using GF110 architecture, the SPARKLE GeForce GTX 580
Graphics Card gets a tremendous boost in DX11 game performance and image
quality, and brings film-like
game characters and objects to users. GF110 architecture also enhances
PhysX simulations with tremendous speed upgrade. In addition, GPU computing
now can be put in practice in latest DX11 games for improve DX11 gaming
efficiency.