(Auszug aus der Pressemitteilung)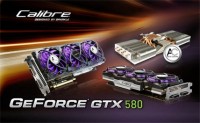 Taipei, Taiwan – November 9, 2010 – SPARKLE Computer Co., Ltd., the professional VGA card manufacturer and supplier, today proudly introduced the Calibre X580 graphics card , delivering intense performance and the broadest set of features for gamers who demand the best.
OC Feature Brings Ultimate DX11 Performance
With the excellent cooling solution from Accelero Xtreme, the
Calibre X580 Graphics Card brings ultimate DX11 performance
with OC function. This offers opportunities for enthusiasts and
anyone intent on more hardcore applications to tap their full,
powerful potential. Compared to reference GeForce GTX 580
graphics cards on market, the the Calibre X580 Graphics Card is
overclocked out of box, it boosts the core, shader and memory
clocks significantly to 810MHz, 1620MHz and 2016MHz, bringing
ultimate performance in the latest DX11 games including Dirt 2,
Stalker:OCP, Alien VS. Predator, Metro 2033 and so on.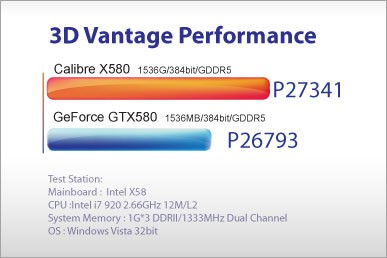 Accelero Xtreme Cooling Solution
Using the Accelero Xtreme cooling solution from Arctic Cooling, the
Calibre X580 Graphics Card provides ultimate cooling weapon for
hardcore gamers. The Accelero Xtreme features 5 heatpipes, 107
fins and 3 PWM fans. The radical optimized air flow design is
targeting to cool effectively up to 240 Watt heat dissipation. The
Accelero Xtreme can dramatically cool the temperature of the GTX
580 GPU at least 15ºC lower than the stock cooler. Together with
the integrated memory and voltage regulator cooling, the Accelero
Xtreme not only enhances the overclocking potential but also
extends the card's service life. The three PWM fans from Accelero
Xtreme bring maximum air flow but operate extremely silence,
thanks to the low noise impellor design and the patented fan holder
which eliminates the humming noise. The unnoticeable operation of
Accelero Xtreme brings you the unparallel non-disturbed gaming
experience ever before.