(Auszug aus der Pressemitteilung)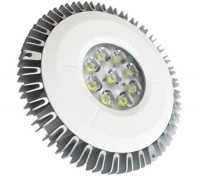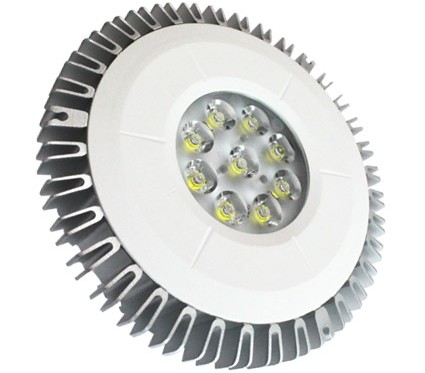 24 November 2010, Taipei, Taiwan – GlacialLight, a sub-division of the experienced technology manufacturer GlacialTech Inc., is excited to release an all-new, environmentally-friendly product – the LED Vega Series, a direct replacement for halogen AR111 lamps. With GlacialLight's specially-designed LED driver on board, the brand-new GL-AR111 LED Vega Series is compatible with all electronic transformers and can be placed in any halogen AR111 lamp socket immediately.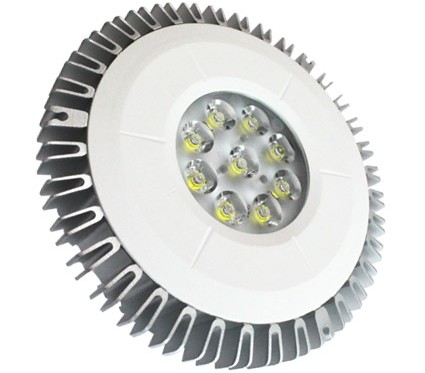 Commonly used in cabinet displays, architectural accenting, hallways, commercial outlets, etc., the halogen AR111 lamps generally require more energy and have significantly shorter life-spans than GlacialLight's brand-new LED Vega Series. In fact, GlacialLight's GL-AR111 LED Vega Series lamp has extremely low-level of heat radiation so users can actually see a reduction, not only in their lighting energy bill but their cooling bill as well. Rated at over 50,000 hours of life, once a GL-AR111 LED Vega Series lamp is placed, it is going to be a long-enough time before the question of replacing even crosses your mind. Able to accommodate an input voltage of 12V±10% provided by either an AC source or a DC source to power the inbuilt LED driver, the GL-AR111 LED Vega Series are more convenient and flexible than the halogen AR111 lamps confined to an AC source.
Thinking of the environment, GlacialTech designed the GL-AR111 LED Vega Series to contain no hazardous chemicals, such as mercury, or harmful radiation emissions such as UV or IR, making these more eco-friendly than the traditional incandescent lighting fixtures. With a power conversion efficiency of greater than 80%, GlacialLight is extremely excited to give consumers the LED Vega Series – an economically and environmentally-friendly lighting solution.
Specifications
Power Consumption: 12W
CCT: 3000K/6000K
Luminous Flux (Lm): 520/650
Luminance(lm/W) : 43/54
Beam Angle: 25º
Input Voltage: 12V AC/DC
CRI > 75
Base: G53
LED Vega Series Features
Direct replacement for any halogen AR111 lamp
Compatible with electronic transformers without LED drivers
Low power consumption – energy-saving green product
Power conversion efficiency > 80%
Long lifetime > 50,000 hrs
Eco-friendly: RoHS Compliant, No UV, no IR, & no mercury
For indoor use only
Excellent LED lighting products you can trust
Design of LED lighting products is based on three core technologies including electrical design (LED drivers), mechanical design (cooling devices), and optical design (lamp holders), respectively performed by GlacialPower, GlacialTech, and GlacialLight in the GlacialTech family. With the three core technologies in hand, GlacialTech has integrated all the resources required for exceptional designs and manufactures excellent LED lighting products you can trust.
Advantages and benefits of LED lighting compared to traditional lighting
Directional lighting: ideal for spotlights
No warm-up time in cold environments: LEDs don't require warm-up time like conventional CFLs
No harmful radiation and no hazardous metals: LEDs don't emit harmful radiation such as Ultraviolet or Infrared emitting halogen lamps and don't contain hazardous metals such as mercury contained in mercury lamps
Extremely long lifetimes free users from frequent lamp replacement
Extremely small carbon footprints: an environmentally-friendly technology
Applications
Architectural Lighting / Cabinet Lighting / Commercial Lighting / Spot Lighting / Accent Lighting / Hallway Lighting