(Auszug aus der Pressemitteilung)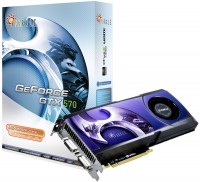 Taipei, Taiwan – December 7, 2010 – SPARKLE Computer Co., Ltd., the professional VGA card manufacturer and supplier, today presents The SPARKLE GeForce GTX 570 Graphics Cards, the DirectX 11 monsters for high-end market.
Ultimate Cooling Solution — Designed for Quieter Gaming
SPARKLE introduces the Vapor Chamber cooling solution for The SPARKLE GeForce GTX 570 Graphics Cards, the same cooling solution used on the SPARKLE GeForce GTX 580 graphics card. Based on Vapor Chamber Technology, The SPARKLE GeForce GTX 570 Graphics Cards runs not only cooler but also much quieter and it provides more headroom for users to explore performance tweaking ! Vapor Chamber Technology is based on the same principles as heatpipe technology. A liquid coolant is vaporized at a hot surface, the resulting vapor is condensed at a cold surface then the liquid is returned to the hot surface. The recirculation process is controlled by a wick system. The coolant is water – but because the chamber is evacuated to a very low pressure, the vaporization process occurs at a much lower temperature than normal boiling point. The complex wick arrangement inside the module controls the flow of water and water vapour so that the system can be used in any orientation. The GeForce GTX 570 GPU heats Vaporization Wicks. Working fluid, pure water, is easily vaporized due to the extreme low pressure (<104 Tor or less). Water vapor moves easily through the vacuum until it meets the condensing wick - adjacent to the cooled surface - and turns back to a liquid state. The liquid is then absorbed by the Transportation Wick by capillary action and moved back towards the Vaporization Wick. The Vapor Chamber cooling design of The SPARKLE GeForce GTX 570 Graphics Cards is much more efficient than a copper heatsink at carrying away the heat because the whole area effectively transfers heat at the same rate. Built from GTX580 DNA
Built from the same DNA as the GeForce GTX580 incorporates all the enhancements found in its more powerful sibling. To improve performance/watt, SPARKLE GTX570 Graphics cards were re-engineered down to the transistor level. To increase the GPU's power efficiency, a very large percentage of transistors on the chip were modified. Meanwhile, to improve performance ,SPARKLE GTX570 Graphics cards support full-speed FP16 texture filtering and boast improved Z-culling. In addition to these clock-for-clock improvements, SPARKLE GTX570 Graphics cards have more CUDA cores, texture units, and SMs than their predecessors and run at higher clocks. As a result of these improvements, the SPARKLE GTX570 Graphics cards runs 14% faster on average than GTX480 in our testing.
Driving Gaming Performance to the Max With OC Version
Thanks to the the Vapor Chamber cooling solution, the SPARKLE GeForce GTX 570 OC Graphic Card enables extreme overclocking. This offers opportunities for enthusiasts and anyone intent on more hardcore applications to tap their full, powerful potential. Compared to reference GeForce GTX 570 graphics cards on market, the SPARKLE GeForce GTX 570 OC Graphics Card is overclocked out of box, it boosts the core, shader and memory clocks significantly to 752MHz, 3996MHz and 1504MHz, providing up to 6.5 percent faster overall performance compare to reference, bring incredible performance in the latest DX11 games including Dirt 2, Stalker:OCP, Alien VS. Predator, Metro 2033 and so on.
New Power Monitoring Hardware
SPARKLE GeForce GTX570 Graphics Cards features new Power monitoring hardware. Dedicated hardware circuitry on the graphics card performs real-time monitoring of current and voltage on each 12V rail(6-pin,and the PCI-Express edge connector) .The driver monitors these power levels,and will dynamically adjust performance in certain stress applications such as Furmark and OCCT if power levels exceed the card's spec. This feature helps to protect the graphics card and system from issues caused by excessive power draw .And will not affect end users when gaming, even when the GTX570 graphics card is overclocked.
Highest Tessellation Power Brings Incredibly Detailed Visuals
While tessellation has mostly been used in films. With the introduction of DirectX 11 and NVIDIA's GF110, developers will be able to harness these powerful techniques for gaming applications. The SPARKLE GeForce GTX 570 Graphics Cards were designed from the ground up to deliver the industry's most potent tessellation performance, which is the key component of Microsoft's DirectX 11 development platform for PC games. Tessellation allows game developers to take advantage of the GeForce GTX 570 GPU's ability to increase the geometric complexity of models and characters to enables incredibly detailed game characters and terrain with blazing performance in latest DX11 titles, such as Dirt 2, Stalker:OCP, Alien VS. Predator, Metro 2033 and so on.
Ray Tracing Support: The Future Of Gaming
The SPARKLE GeForce GTX 570 Graphics Cards enable interactive ray tracing for ultra photo-realistic scenes. The SPARKLE GeForce GTX 570 Graphics Cards power interactive raytracing, bringing spectacular, photo-realistic renderings to your screen for the first time. By using the power of the GF110 GPUs, The SPARKLE GeForce GTX 570 Graphics Cards support recursion in hardware, enabling efficient ray tracing and a host of other graphics algorithms. It excels not just at standard ray tracing, but also at advanced global illumination algorithms such as path tracing.
32x Anti-aliasing technology
The SPARKLE GeForce GTX 570 Graphics Cards implement a brand new 32x anti-aliasing mode for higher levels of image quality. And the GeForce GTX 570's enhanced compression engine maintains incredible performance with anti-aliasing and resolution cranked up, providing both high frame rates and top notch image quality.
Expands The Gaming Real Estate With NVIDIA 3D Vision Surround Technology
With the power of multiple GF110 GPUs in an NVIDIA SLI configuration and NVIDIA 3D Vision Surround technology, the SPARKLE GeForce GTX 570 Graphics Cards expand the gaming real estate across three monitors in full stereoscopic 3D — making for a truly immersive gaming experience. The SPARKLE GeForce GTX 570 Graphics Cards provide the incredible graphics horsepower to run your game in 3D stereo, across 3 panels, at HD resolutions up to 5760×1080. The SPARKLE GeForce GTX 570 Graphics Cards aslo supports gaming across three non-3D displays with resolutions up to 2560×1600,it's the best in Class 2D Surround Gaming.
A New Level of DirectX 11 Performance
The SPARKLE GeForce GTX 570 Graphics Cards deliver all the benefits of the advanced 40nm process from TSMC, a higher speed GDDR5 memory interface, and full DirectX 11 support, possessing considerable power improvements compared to its predecessor. The SPARKLE GeForce GTX 570 Graphics Cards with Shader Model 5.0 support are designed for ultra high performance in the new API's key graphics feature, GPU-accelerated tessellation. Compared with GTX 480,the SPARKLE GeForce GTX 570 Graphics Cards delivering up to 14% more performance in DirectX 11 games, such as Lost Planet2, MOH2010 and etc.
1280MB GDDR5 Video Memory
Near future's DX11 games and 3D applications, such as Lost Planet2, Mafia II and 3DMark 11, they insanely use as large as possible number of bump texture, transparent texture to describe faces of characters and render realistic gaming scenes, so they put rigorous demands on the bandwidth and capacities of video memory.The SPARKLE GeForce GTX 570 Graphics Cards come with incredible large 1280MB high speed GDDR5 video memory.
2 Way and 3-Way SLI Support
The SPARKLE GeForce GTX 570 Graphics Cards support NVIDIA 2-way and 3-way SLI technology, which provides even higher frame rates and permits higher quality settings for the ultimate experience in PC gaming when connected to a high-end, high-resolution monitor.
3nd Generation PureVideo HD
High-definition video decoder and post-processor delivers unprecedented picture clarity, smooth video and accurate color for movies and video.
OpenGL 4.1 Optimization and Support
Ensures top‐notch compatibility and performance for OpenGL applications.
Native HDMI 1.4a Support and Audio Input for HDMI
Fully integrated support for HDMI 1.4a including xvYCC, Deep color and 7.1 digital surround sound. High-definition audio transmission can be realized without spdif wiring.