(Auszug aus der Pressemitteilung)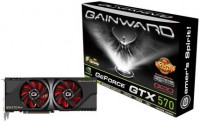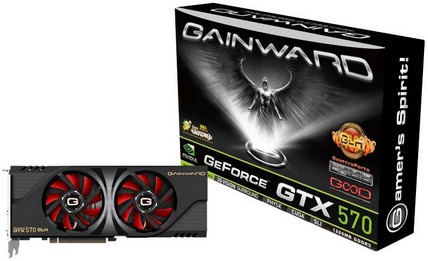 As the leading brand in enthusiastic graphics cards, Gainward again polishes its "GOOD"(Gainward Optimized Own Design) brand thoroughly by innovatory GeForce GTX 570 "Golden Sample"-Goes Like Hell (GS-GLH) after one month later of GTX 580 launch. Descending its glorious tradition, Gainward provides three unique options – Gainward GeForce GTX 570 "Golden Sample"-Goes Like Hell, "Golden Sample" and default edition, for enthusiastic gamers, which are built in the same strong GTX 580 DNA with somehow more affordable price tag. The shiniest start of all, Gainward GeForce GTX 570 "Golden Sample"-Goes Like Hell, is dynamically driven by enhanced Fermi-architecture GPU (GF110) based on an optimized circuit design on a longer PCB (on a 10.5 inches design compare to Nvidia reference 9 inches) and cooled by Gainward Grand Prix (GP) Heatpipes Cooler ventilated with 2GR8 (2 Great 8 cm) fans, which enables an incredible over-clocking ability while representing the best thermal-control characteristics and significant noise-reduce specialty.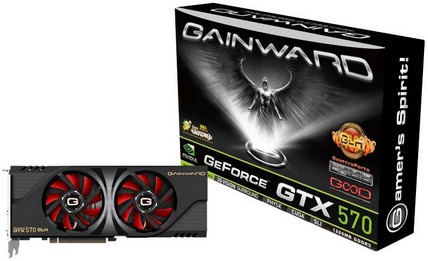 Gainward GeForce GTX 570 "Golden Sample"-Goes Like Hell (GS-GLH) is extremely over-clocked for 480 CUDA Cores from 732MHz to 800MKz and whopping 2000MHz for 1280MB GDDR5 320 bits memory (bandwidth up to 160 GB/sec). Gainward GeForce "GS-GLH" delivers the best-in-class gaming performance which runs 21% faster than GeForce GTX 480 in DirectX10 and 12% higher in DirectX11, not only outperforming standard GeForce GTX 570 in every widely applied functions, but not also displaying cooler-and-quieter-than-ever techniques. What comes more, Gainward GeForce GTX 570 is smartly integrated with "QuattroPorts"(Dual-DVI, Display Port, HDMI), the universal connectivity, for diverse display in Extreme High-Definition resolution.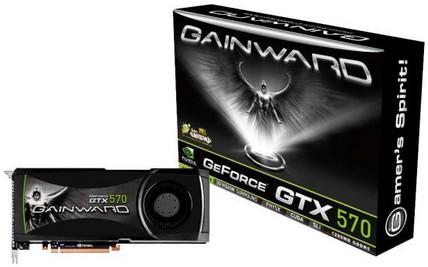 Gainward GeForce GTX 570 default edition, the powerful big brother, leverages the same GF110 GPU used in the GTX 580, and incorporates all enhanced features. Its 1280MB GDDR5 memory is clocked at 1900MHz (DDR 3800), core clock is set at standard 732MHz. As the result of the improvement, Gainward GeForce GTX 570 is 25% higher on the average testing than GTX 470 and 12% faster than GTX 480 in DirectX11. Although clock rate is rather modest by default, the revolutionarily better cooling solution has left lots of headroom for over-clocking by Gainward award winning graphics tuning utility – Expertool, which activates clock rate settings and fan control with user-friendly interface and fail-safe clock-down override.
Owning Gainward GTX 570 series, you can enjoy the incredible 3D experience at extreme HD resolutions for today's hottest game titles such as World of WarCraft with the epic performance and innovation thermal design. Along with all the benefits listed, Gainward GTX 570 series packs support all the premium GTX gaming technologies such as DirectX 11, NVIDIA® Surround, 3D Vision™, PhysX®, and SLI®. The new world has arrived! What are you waiting for? Gainward GTX 570 is your best X'mas gift and wish; Play with it and immerse in amazing 3D experience without scarifying any frame rig!
Gainward Signature Designs
Gainward dedicates in graphics industry and stands strong for more than 2 decades counts on innovative R&D and highest quality control standards down to components level. Gainward won gamers' thumb-up with signature designs listed below,
Gainward Optimized Own Design, GOOD for Infinity!
Gainward accumulated 2 decades of core competences in graphics industry. Always comes out creative own innovations, engineering for more stable circuit layouts, empowering GPU, memory & key components with more than sufficient power for better over-clock ability & robustness.
Gainward Grand-Prix Heatpipes Hybrid Cooler with 2GR8 Fans, 2 COOL! 3 Way SLI fully supported!
Gainward Grand-Prix Heat-Pipes Hybrid Cooler, was designed in 6 mm heat-pipes on a copper base conducting heats away from GPU at highest efficiency, then dissipating onto aluminum heatsinks, which are forced ventilated with Great 8 cm Twin PWM Fans (2GR8) Achieve highest efficiency cooling performance up to 12˚C lower at 3D loading mode, with respect to reference GTX 570, run at 8dB (25%) quieter than reference GTX 570 at stand and 2D loading (measuring distance at 30 cm, ambient noise at 32dB). Gainward award winning Grand-Prix cooler, 2GR8, 2COOL! Another important feature's worth mentioning is Gainward GeForce GTX 570 GOOD edition is a strict 2-slot design for full compliance of 3 Way SLI to differentiate from others who work in 2.2 even 2.5 slot, which may run into mechanical interference or overheating due to poor ventilation.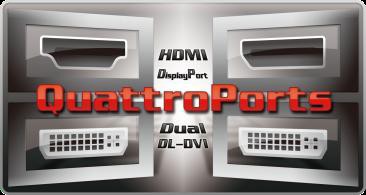 QuattroPorts, 4-ports-in-1 Universal HD connectivity
Gainward generously provide 4 Full HD ports (DisplayPort, HDMI & Dual
Dual-Link DVIs) in one, fulfills universal connectivity to diverse displays. Dual
View is supported with ease without bothering connector conversion. Got a 30"
monitor looking for 2560 x 1600 extreme HD resolution. Here you go!
Gainward GeForce GTX 570 Series Specifications