(Auszug aus der Pressemitteilung)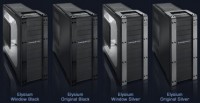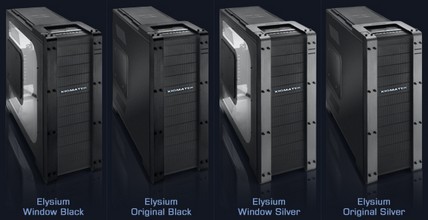 ELYSIUM – Domicile of the blessed in the ROMAN EMPIRE, surrounded by own stars and a sun – your new high end gaming tower. Spotlighting your hardware with the housing of 12*5.25" drive bays and two 4 in 3 HDD cages. Supporting extreme HPTX, XL-ATX, and downward form factors. Aluminum and mesh front Design with USB 3.0 and Hot-Swap HDD docking on the top panel. Two mounting possibilities for PSU'on the top and bottom, and water cooling experts and enthusiasts will be overwhelmed with the mounting possibilities for their radiators up to 420mm including seven spots for the tube guidance. Ventilation with preinstalled fans as 120mm LED *2 on the HDD cages, 140mm LED on the rear, 1*200mm LED on the side panel. GET INTO THE GAME WITH XIGMATEK'S ELYSIUM!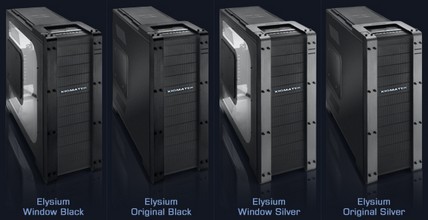 Support HPTX super big M/B and 10 PCI slots
for four graphic cards.
Hot-swappable 2.5″/3.5″ SATA HDD docking
on top panel.
Two USB 3.0 super-speed ports on top panel with dust-proof cover.
Both side screw-less ODD holders.
Dual PSU possible on the top and bottom.
360/420mm water cooling radiator possible.
Total external twelve 5.25″ bays with two
4 in 3 HDD cages".
3.5″ HDD anti-vibration rubbers inside of 4 in 3 cage.
Anti-vibration rubber and bottom dust filter for PSU.
Aluminum surface on the front mesh panel
with removable dust filter.
Two CPU cooler backside holes and
8/12cm cooling fan available.
Back side holes and clips for cable management.