(Auszug aus der Pressemitteilung)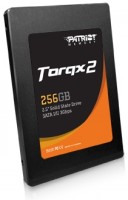 FREMONT, CALIF., USA– April 28, 2011 – Patriot Memory, a global pioneer in high-performance memory, NAND flash, storage and enthusiast computer products, today announces the new high-performance Torqx 2 – a new SSD that delivers the perfect balance of price and performance. The Patriot Torqx 2 series enables users to boost performance of existing desktops and notebooks to achieve maximum performance with SATA II 3.0 Gb/s interfaces.
By combining a cutting-edge newSSD controller with high-performance 3x-nm NAND flash memory, the Patriot Torqx 2 SSDs achieve up to read speeds up to 270MB/s for a noticeable performance boost with daily computing tasks. Write speeds up to 230MB/s ensure the Patriot Torqx 2 series can write virtually as fast as it reads for lightning-fast software installations and large-file creation.
"We recognize there are a lot of users with desktops and notebooks that want the SSD performance experience but lack SATA III 6.0 Gb/s compatibility to fully take advantage of our higher-end drives," says Meng Jay Choo, Patriot Memory's Flash Memory Product Manager. "With the new Patriot Torqx 2 series, we are able to deliver a significant performance boost at attractive prices."
The Patriot Torqx 2 series incorporates TRIM technology to ensure the drive always maintains maximum performance with compatible operating systems.
The Patriot Torqx 2 ships this week in 32GB, 64GB, 128GB and 256GB capacities with a 2.5-inch form factor.
General details

New Patriot Torqx 2 series SSDs
32GB, 64GB, 128GB and 256GB capacities
SATA II 3.0 Gb/s interface
Supports TRIM technology
Up to 270MB/s read
Up to 230MB/s write