(Auszug aus der Pressemitteilung)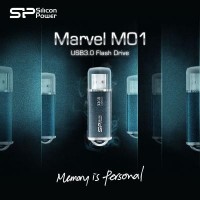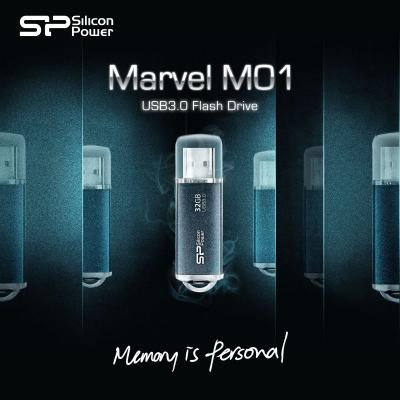 Taipei, Taiwan, August 23 2011 – Leading memory storage brand, SP/Silicon Power has been extending its product line of USB 3.0 flash drives and today announces the latest addition, Marvel M01. Customers can readily experience the Super-Speed USB 3.0 transfer rate with this affordable option from SP.
Considering the everyday usage, Marvel M01 is designed with durable aluminum solid casing that protects it from scratches, allowing a brand new look. The strap hole attached turns the USB drive into a charming accessory, keychain or necklace. It truely fulfills consumers' daily requirements to carry their most cherish memories on hand!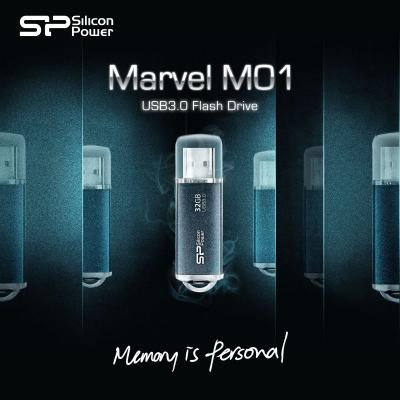 Positioned as a cost-effective choice, M01 remains a quality product. It incorporates USB 3.0 interface and is also compatible with USB 2.0 and 1.1 interfaces. The aluminum casing protects the surface from fingerprints and scratches. The rugged construction ensures its extraordinarily durable performance. The color selection of icy blue is suited to all settings and the build-in LED indicator light displays power on and data transfer status. M01 comes in the various choices of 8GB, 16GB or 32GB storage capacities.
Every SP flash drive product comes with a lifetime warranty, as well as the SP Widget application software, providing 7 major back up and security tools. A 60 day free trial of Norton Antivirus 2011 is also provided to further ensure user security and convenience from the value-added services.
Product Features
USB 3.0 interface, backward compatible with USB 2.0 and 1.1 devices
Durable and scratch resistant aluminum solid casing
Plug and play, no additional power source required
LED indicator light indicates the usage status
SP Widget free download, providing 7 major back-up and security function
Product Specification
Dimensions: 60.6 x 18.0 x 8.1mm
Weight: 10g
Interface: compatible with USB 3.0, 2.0 and 1.1
Support OS: Windows XP/Vista/7, Mac OS 10.3.x, Linux 2.6.x
Durability: 10,000 insertion/removal cycles
Operating temperature: 0° C – 70° C
Capacity: 8GB、16GB、32GB
Color: Icy Blue
Lifetime Warranty