(Auszug aus der Pressemitteilung)


Taipei, Taiwan—November 11, 2014 – Mach Xtreme Technology Inc., a worldwide leader in top performance, high reliability and user-friendly designed PC components, today launched OTGuard™ Series USB3.0 / OTG flash drives. The MX-OTGuard is based on a dual connector design and implementing 256-bit advanced software encryption technology for easy and safe file transfer.
MX-OTGuard USB 3.0 / OTG flash drive address the need of secure, reliable and fast data storage, back-up or transfer between Android mobile devices and PC or Mac. The OTGuard is equipped with dual connectors: a standard USB 3.0 connector and a micro-USB 2.0 B interface that fits directly into the port of any mobile device like smartphone or tablet which supports OTG, without the need for a cable or an adaptor.
This flash drive's security is beefed up with AES 256-bit encryption; ensuring sensitive data stored on the USB pendrive cannot be compromised. MX Technology has incorporated a cutting-edge software encryption: Secure Drive EX 2 that will protect important business and personal files against any unauthorized access by placing them in an encrypted and password protected Private (Secure) partition. With an intuitive multi-lingual interface, user can freely create secure and public partitions.

Mach Xtreme OTGuard flash drive comes in 16GB to 64GB flavors. All this combined with 2-Years warranty and consumer friendly pricing nominates MX-Technology OTGuard™ Series USB 3.0 flash drive as the best 256-bit software encrypted OTG drive on the market.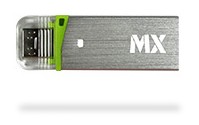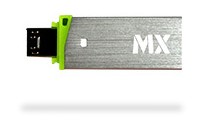 OTGuard™ Series USB 3.0/OTG Flash Drives at A Glance:
USB 3.0 / OTG Interface
AES 256-bit Software Encryption
Flexible Private and Public Partitions
Max. Read Performance up to 110MB/s
Max. Write Performance up to 25MB/s
Shock and vibrations resistant
Compact and easy to carry: 37.1mm x 12.3mm x 4.6mm
Lightweight: 2.8g
Certification: ROHS, CE, FCC
Capacity: 16GB (MXUB3MOTG-16G), 32GB (MXUB3MOTG-32G) and 64GB (MXUB3MOTG-64G)
Warranty: 2-Years