(Auszug aus der Pressemitteilung)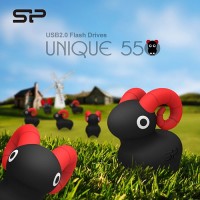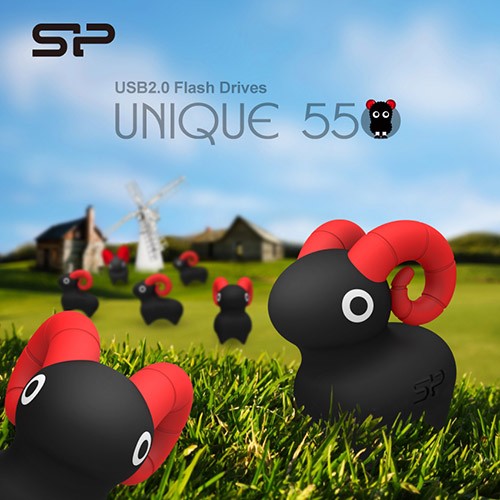 Taipei, Taiwan – January 29th, 2015 – SP/ Silicon Power, the world's leading provider of memory storage solutions, today introduces the brand-new USB 2.0 flash drive - Unique 550. With the cute design of goat shape and red curved horn, Unique 550 greatly amazes and amuses users; in addition, the durable casing is made of soft and sturdy rubber and applies COB technology to ensure complete protections against water and vibration. Unique 550 not only functions as a storage device, but also delivers fun and pleasure. Its creative and useful design makes it a must-have gadget to enhance your work-life effectiveness.
Fill Your Life with Joy and Energy
As the New Year started, SP understands that most people have just returned to work and been engaged in busy schedules. Therefore the newly-launched USB flash drive - Unique 550 is designed to relieve stress and bring delight to everyday life; Meanwhile it also responds to the upcoming jubilant 2015 Chinese New Year. Featuring an adorable goat figure with eye-catching curved horn, Unique 550 pours novelty and energy into daily routines. It magically sweeps away worries and stress at work and studies, and it stands out to be a mind-healing and sweet mood-booster. On top of that, the innovative packaging which imitates goats grazing in lush green pastures comes with an artificial turf and a fence to create a vivid and pleasant view for your office. This cute goat-shaped USB flash drive not only stores data but adds a lively twist to work and study environments.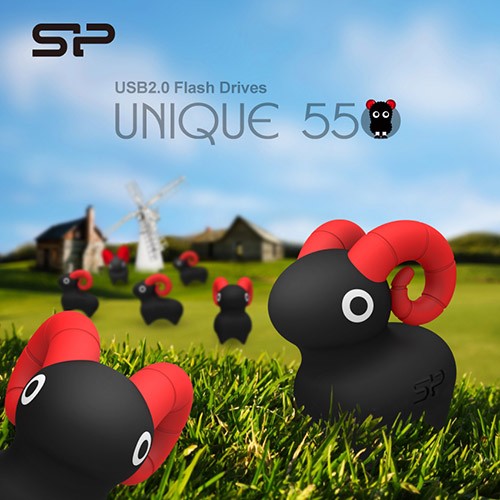 Fun and Durable for Daily Use
Engineered with COB (Chip-on-board) technology and elastic rubber casing, Unique 550 provides complete data protections to be vibration-proof, waterproof and dustproof; therefore, users can carry around without worries about data loss and damages. Unique 550 is now available in 8GB and 16GB, and backed by a lifetime warranty. All Silicon Power USB flash drive products come with SP Widget application software which provides seven major backups, security tools and a 60-day trial version of NIS (Norton Internet Security). Furthermore, SP also offers the Recuva File Recovery that allows users to easily rescue deleted files including digital photos, documents, music and videos.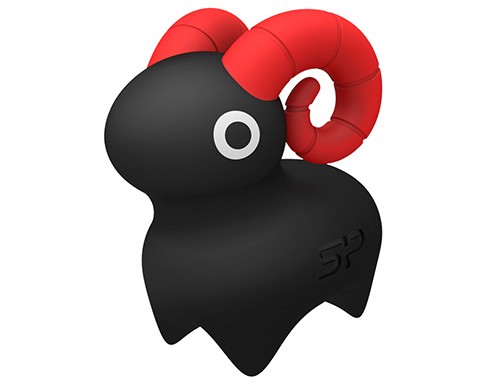 Unique 550 USB Flash Drive
Product Features:
Adorable goat-shaped design
Sturdy rubber exterior for easy carrying and using
COB (Chip-on-board) technology for vibration-proof, waterproof and dustproof
Exclusive free-download file management App-SP File Explorer
Recuva File Recovery, allowing recovery of erased files, such as digital photos, documents, music and videos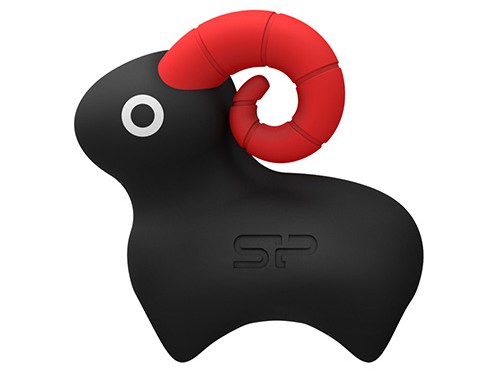 Product Specifications:
Size:40.75 x 41.13 x 24.54 mm
Weight:19.37 g
Capacity:8GB、16GB
Color:Black
Material:Rubber
Interface:USB 2.0 / USB 1.1 Compatible
Supported OS Operation Systems:PC – Windows 8 / 7 / Vista / XP / 2000, Mac OS 10.3.x, Linux 2.6.x
Certification:CE/FCC/BSMI/Green dot/WEEE/RoHS/KCC
Warranty:Lifetime warranty