(Auszug aus der Pressemitteilung)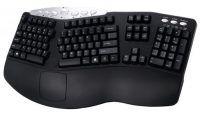 Maarheeze, The Netherlands, 11-05-2017. We're pleased to introduce the Spire CURVATURE lll, a fully ergonomic keyboard which definitely has its benefits due to its outstanding ergonomic design. It's ability to reduce muscle strain through its extensive design in a shape of a V form, allows the left arm to be positioned in such a way that is natural to the human posture.
Tired of have muscle pain, or do you feel like you are sitting in an unnatural position when typing on your computer, then this product is specifically the solution for you! Including multimedia and internet hotkeys features which make this keyboard the convenient tool to master your computer without overloading your arm-muscles and tendons.
Main Features:
Curved and slightly tilted design
Natural wrist and arm positioning
Multimedia keyboard including hot keys
Easy access to internet and multimedia functions
High-quality membrane key switches
Lifespan: 10,000,000 times
Spill liquid proof design
Plug & Play, Compatible with Windows, MAC & Linux
2 years manufacturer warranty service
Codenamed:
CURVATURE III
MSRP:
Manufacturer suggested retail price: € 39,95 / $ 45.95
Availability:
The CURVATURE III keyboard is now available from Spire Corp in Shenzhen, China. Availability from Spire Europe, The Netherlands is at the end of May 2017.