(Auszug aus der Pressemitteilung)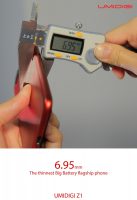 After announcing the releasing of "the thinnest big battery flagship phone" yesterday, the UMIDIGI Z1, UMIDIGI continues to give out more information today about their latest flagship phone.
The UMIDIGI Z1 is reportedly to have a 6GB RAM while in the Z1 Pro version, comes with an unexpectedly hefty 8GB RAM. Apart from the specs and the hardware, what is widely concerned is of course the price. As a flagship device, the price of UMIDIGI Z1 is expected to be higher than their previous models.
According to UMIDIGI as we know so far, the 6GB RAM UMIDIGI Z1 will be sold at $299, and it's $499 for the 8GB RAM Z1 Pro.
You can now find subscription page on UMIDIGI's official website for the UMIDIGI Z1 and Z1 Pro. There will be also 5 UMIDIGI Z1s available for Giveaway, get your chance to win one for free!
Video: https://www.youtube.com/watch?v=s4G2Jaybn50