(Auszug aus der Pressemitteilung)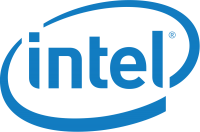 Record second-quarter revenue up 14 percent year-over-year (excluding Intel Security Group) with strong performance in client computing (up 12 percent) and data-centric* businesses (up 16 percent).
GAAP earnings per share (EPS) was $0.58 and non-GAAP EPS was $0.72, up 22 percent year-over-year driven by strong topline growth and gross margin improvement.
Intel raises full-year revenue outlook by $1.3 billion to $61.3 billion; raises full-year GAAP EPS outlook by $0.10 to $2.66 and non-GAAP EPS by $0.15 to $3.00.
Launched Intel's highest performance products ever: the Intel® Core™ X-Series family for advanced gaming, VR and more, as well as Intel® Xeon® Scalable processors, which offer data center customers huge performance gains for artificial intelligence (AI) and other data-intensive workloads.
SANTA CLARA, Calif., July 27, 2017 — Intel Corporation today reported second-quarter revenue of $14.8 billion, up 9 percent year-over-year. After adjusting for the Intel Security Group (ISecG) transaction, second-quarter revenue grew 14 percent from a year ago. Operating income was $3.8 billion, up 190 percent year-over-year, and non-GAAP operating income was $4.2 billion, up 30 percent. EPS was $0.58, up 115 percent year-over-year, and non-GAAP EPS was $0.72, up 22 percent.
The company also generated approximately $4.7 billion in cash from operations, paid dividends of $1.3 billion, and used $1.3 billion to repurchase 36 million shares of stock. Intel is raising its full-year revenue outlook by $1.3 billion to $61.3 billion and raising its EPS outlook to $2.66 (GAAP) and $3.00 (non-GAAP), which is a 15 cent increase over the previous guidance.
"Q2 was an outstanding quarter with revenue and profits growing double digits over last year," said Brian Krzanich, Intel CEO. "We also launched new Intel Core, Xeon and memory products that reset the bar for performance leadership, and we're gaining customer momentum in areas like AI and autonomous driving. With industry-leading products and strong first-half results, we're on a clear path to another record year."


*Data-centric businesses include DCG, IOTG, NSG, PSG, and all other
"We feel great about where we are relative to our three year plan and heading into the second half. Intel's transformation continues in the third quarter when we expect to complete our planned acquisition of Mobileye," said Bob Swan, Intel CFO. "Based on our strong first-half results and higher expectations for the PC business, we're raising our full-year revenue and EPS forecast."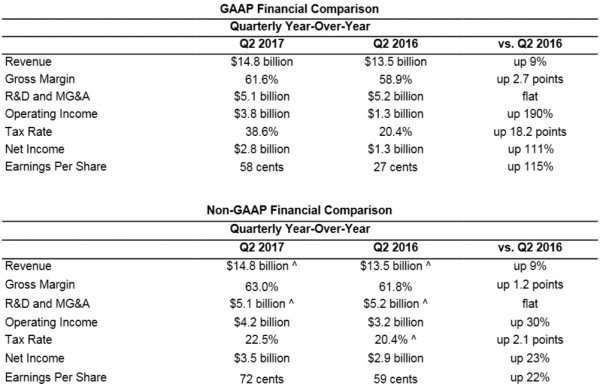 Business Outlook
Intel's Business Outlook and other forward-looking statements in this earnings release reflects management's views as of July 27, 2017. Intel does not undertake, and expressly disclaims any duty, to update any such statement whether as a result of new information, new developments or otherwise, except to the extent that disclosure may be required by law.
Intel's Business Outlook does not include the potential impact of any business combinations, asset acquisitions, divestitures, strategic investments and other significant transactions that may be completed after July 27, 2017 except for the planned acquisition of Mobileye N.V. (Mobileye), which we expect to close in the third quarter of 2017, pending satisfaction of all closing conditions.
Our guidance for the third-quarter and full-year 2017 include both GAAP and non-GAAP estimates. Reconciliations between these GAAP and non-GAAP financial measures are included below.