(Auszug aus der Pressemitteilung)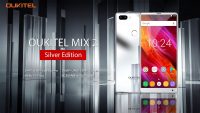 OUKITEL leaked by September that they are releasing the Xiaomi Mix 2 Style full screen smartphone OUKITEL MIX 2. According to latest news, this OUKITEL MIX 2 is delaying to end of November. It is delayed not only because of the coming "1111" shopping festival, but also because of the new Silver Version.
OUKITEL MIX 2 adopts glass material for the battery cover and packs a transparent silicone case to protect the device. Due to the material, black and blue versions display glossy brilliance on battery cover. However, silver version is more shiny than previous two versions. The back surface is so bright that is can serve as a mirror.
The new Silver version design is same as black and blue versions, 5.99 inch 18:9 full display with front camera on bottom right and dual-lens rear cameras on the top left back. On the new silver version, it looks more like a mirror. When a girl wants to fill the lipstick, or a man wants to fix his hair or pull his cravat, back cover of OUKITEL MIX 2 is enough.
Specs for the 3 colors are same. They will get same 5.99 inch FHD+ display with 10 points multi-touch, 6GB RAM and 64GB ROM with 512GB expansion, Helip P25 Soc with 2.39GHz octa-core processor, 21MP and 2MP dual-lens rear cameras and 13MP front camera. For the battery, it will carry a 4000mAh high density battery and 9V/2A quick charger. As OUKITEL MIX 2 is delayed to end of November, MIX 2 subscription activity will be delayed until November 25th too. Anyone subscribed to MIX 2 will get $30 coupon code, when subscription reaches specific amount, OUKITEL will distribute higher discount coupons.
MIX 2 silver photos: