(Auszug aus der Pressemitteilung)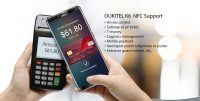 OUKITEL K6 will start the Global First Presale on December 25th-Christmas day. As the best gift that OUKITEL will bring to Christmas, OUKITEL K6 brings something that other similar spec smartphones don't have. OUKITEL K6 is the first and only helio P23 smartphone that packs NFC function. See video below about NFC hands on.
With NFC function, OUKITEL K6 is more convenient in daily life. It supports many functions in daily life like mobile payment, withdraw money by mobile on ATM, subway or air ticket, entrance guard access and control etc. The video just listed some common use. It can support the following functions.
First, touch and go. Like entrance guard, subway or airway ticket, entrance ticket etc. Just store the ticket or password in your K6 and put your mobile close to the reader.
Second, touch and pay. Put your K6 to POS machine that supports NFC, then confirm payment.
Third, touch connection. Put two smartphone that both have NFC, then transfer data like music, photos or contacts.
Forth, touch and scan. Put your K6 closer to the intelligent public phone or poster that has NFC function to scan transportation information.
Fifth, download touch. You can receive or download information through GPRS internet, then use it for payment or entrance guard control. For example, you can set specific SMS to the mobile phone of a housekeeping personnel to control the entrance authorization of your home.
Besides NFC function, OUKITEL K6 also stands out due to the Helio P23 Soc, 6GB RAM and 64GB ROM, 6300mAh battery, 21MP+8MP and 13MP+8MP quad cameras, 6.0 inch FHD 18:9 full screen. OUKITEL K6 is running Android 7.1.1 out of box and also supports fingerprint and face ID recognition!
OUKITEL authorized Banggood.com as the exclusive store to do the global first sale. While OUKITEL K6 original price is $269.99, by subscription on OUKITEL official website, you can get the final price of $199.99. Also K6 will only have 3000pcs at $199.99 for the first presale.