(Auszug aus der Pressemitteilung)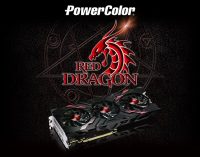 PowerColor Red Dragon RX Vega 56 (AXRX VEGA 56 8GBHBM2-2D2HD/OC) complements the already successful Red Devil Vega cards offering a more value solution in a environment of rising prices without compromising performance, reliability neither cooling performance.
Premium VR Ready
Experience beautifully rich and immersive VR environments and gameplay, augmented by player comfort and effortless compatibility. AMD LiquidVR™ technology, featuring ground-breaking Asynchronous Shaders, helps you avoid nausea and motion sickness during VR experiences. The Radeon™ RX Vega graphics card enables a fully immersive and comfortable VR experience.
Radeon WattMan featuring Performance Profiles
Push your hardware to the limit. Radeon WattMan takes power and efficiency to whole new levels with one-click Auto Power Save Performance Profiles. Improved user control allows for complete customizability with your Radeon RX Vega graphics card.
Radeon Freesync™ 2 Technology
AMD FreeSync™ technology puts an end to choppy gameplay and broken frames with fluid, artifact-free, performance at virtually any framerate.
Radeon Chill
A power-saving feature that dynamically regulates frame rate based on your in-game movements. Radeon™ Chill can improve power efficiency and can lower temperatures for supported products and games when enabled through Radeon™ Settings.
Radeon ReLive Streaming and Recording
Effortlessly capture, stream, and share your memorable moments and clutch victories with Radeon ReLive. Now includes enhanced controls, 100mbps bitrate recording, and added Camera transparency.
8X Capacity / stack
HBM2 vs. GDDR5 (Over 50% smaller footprint).