(Auszug aus der Pressemitteilung)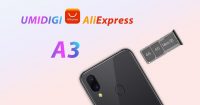 Summary info: At first it is a phone. UMIDIGI A3 packs triple slots, dual 4G VoLTE and global bands, we believe in no-compromises when it comes a SIM slot design for an entry-level phone. Maybe that's a future trade for a budget phone. But the time when it comes out to the market, it definitely will become an entry-level beast.
Nowadays, there are a bunch of budget phones with a 16GB inner storage in the mobile phone market, many of them only provide such solution: you can use either two SIM cards or a SIM card and microSD card in the second SIM slot in your phone. So on paper, phone manufacturer would say that the phone storage capacity is expandable. But for that, you have to use your SIM slot, which means now your phone is a single SIM phone. Especially, for entry-level budget smartphones, which usually has a small inner storage and users have to sacrifice the second SIM slot to expand the storage and there is always a compromise.
But today things seem to be changed. Just a few days ago the growing Chinese mobile manufacturer UMIDIGI leaked a UMIDIGI A3 series with a popular design. And today UMIDIGI on their facebook indicated a triple slots design for their coming-up A3. So what it is triple slots? It means except the dual SIM slot there is a dedicated MicroSD Slot, so there is no compromise anymore for a budget phone with a small inner storage. Also, the Dual 4G VoLTE and global bands support also were mentioned in the post. So it is an international phone and friendly to be taken for a global travel.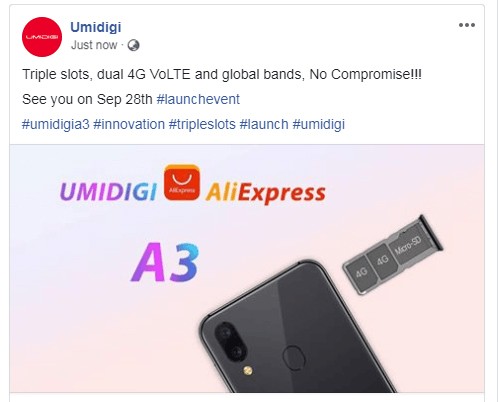 SIM slot design is an important thing even for big mobile manufacturer Apple. In order to satisfy users request, Chinese version iPhone XR and iPhone Xs Max support Dual Sim tray. Apple first time changed the design for SIM slot since 2007. And we are pretty excited about the innovation in this field that UMIDIGI made for themselves. We probably are expected an entry-level beast from UMIDIGI. What do you think about the coming-up UMIDIGI A3 with triple slots and global bands? It is really a budget beast in the mobile market? What kinds of features do you expect for it?
UMIDIGI A3 will launch on Sep 28th. Stay tuned for more interest news.
Check more info about UMIDIGI A3 right here at UMIDIGI Official store on AliExpress.