(Auszug aus der Pressemitteilung)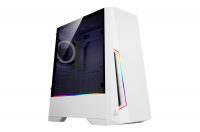 Rotterdam, Netherlands — November 6, 2019 — Antec Inc., a leading provider of high-performance computer components and accessories for the gaming, PC upgrade and Do-It-Yourself market, announces a white version of the Dark Phantom DP501. The case delivers a combination of understated Gaming looks, versatile build options with an affordable price. Its aesthetics will appeal to gamers and enthusiasts who prefer a functional appearance.
The DP501 features an understated ARGB blade on the front panel which makes it the perfect choice for Gamers and Enthusiasts who prefer a plain design over flashy elements, while its mesh design provides better systematic airflow. The DP501 White will soon reach store shelves and online retail outlets in Europe with a competitive MSRP of 70,98 Euros.
Both models feature a robust cooling system to be prepared for demanding gaming action. The white mid-tower comes with four pre-installed white 120 mm fans (fan in the rear features white LED). The chassis offers space for additional two 120 mm or two 140 mm fans on the top. The frame measures 443 x 210 x 484 mm (D x W x H) and supports ATX, ITX and Micro-ATX motherboards as well as graphics cards with a maximum length of 360 mm and power supplies with a maximum length of 160 mm.
Furthermore, the DP501 offers space for two convertible 2.5" / 3.5″ HDDs and four 2.5″ SDDs as well as seven expansion slots. The thought-out case allows for installing a 360 mm radiator in the front, one 280 mm radiator on the top and a 120 mm radiator in the rear. The magnetic dust filters at the top and bottom can be removed for extra airflow and easy maintenance.
Different from other similar cases, the DP501 White features an embedded tempered glass panel design, which leads to a sleek and well-shaped body without any unnecessary part. The other function of the side panel is to support the weight of the tempered glass, preventing it from breaking on account of physical impact or accidents. The front bezel features two USB 3.0 slots, Power, Reset and Mode button as well as MIC / AUDIO.
An inbuilt RGB module allows for changing the lighting of the blade – simply connect the module with the LED Mode button for direct LED mode control. In order to control the ARGB signal, connect the module with the motherboard for changing 16.8 million possible colors in sync. The enclosed cable is for Gigabyte motherboard use only (excluding Z390).
The DP501 is backed by Antec's Quality 2-Year Warranty.