(Auszug aus der Pressemitteilung)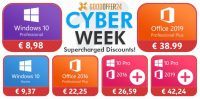 Cyber Monday falls on December 2nd and we're already rounding up the best Software deals out there. With a wide variety of online offers, it's a great time to pick up what you've been wanting and make use of these massive discounts – so here's what you need to know!
Luckily for us, GoodOffer24 has just announced the opening of its Cyber Monday Sale, bringing some exciting offers to the table for popular Microsoft tools like Office or even Windows 10 operating system. If you've been waiting for prices to go down, just stay tuned – because these offers will simply blow your mind! Let's have a look?
For those of you who prefer to visit the Promo page directly, you can do so here.
CYBER WEEK: 30% DISCOUNT CODE for Windows 10, Office 2016 and much more!
GoodOffer24 doesn't cut back on discounts and has just extended its crazy Black Friday promotions to Cyber Week: To receive an extra 30% discount on Microsoft products, simply use the promotional code "JCW30" at the time of your purchase:
CYBER WEEK: 35% DISCOUNT CODE for Office 2019 products (incl. Bundles!)
If you were looking for reasonable discounts on Office 2019, then you're in luck. GoodOffer24 has just the right offer for you! Save even more with the promotional code "JCW35" and receive an additional 35% discount on any of the following products:
GoodOffer24 is a great Online Store specialized in selling license keys for popular Microsoft Software, such as Windows 10 Pro/Home, Office 2016/2019, and more!
At GoodOffer24 you can expect the best service! Shortly after ordering, you receive an e-mail with your product keys without having to wait for days – ensuring you the fastest delivery! Furthermore, GoodOffer24 guarantees that all licenses are valid and also offer a 1-YEAR SERVICE WARRANTY, protecting you against additional costs of product replacement and maintenance.
Behind them is a highly experienced team that has been involved for over 10 years in the field of Software sales, as well as Video Game Codes and Console Cards – so rest assured you will be in the right hands! To top it off, GoodOffer24 has a 24/7 Online Customer Service team available all year round to help all their customers!
If you need more information, don't hesitate to contact them at any time through the following e-mail address: info@goodoffer24.com – they will be happy to help you!