(Auszug aus der Pressemitteilung)
Augsburg (Germany), 26th of May 2020. Notebooks with AMD processors? What was long a shadowy existence in the days of Intel's quasi-monopoly is now seeing the light of day in the notebook segment again with AMD's impressive comeback with the Ryzen series.
Notebooks based on AMD Ryzen are slowly regaining market share and TUXEDO Computers is also relying on the CPUs of the Californian chip developer for its new Linux notebooks TUXEDO Book XA15 and TUXEDO Book BA15.
Muuulti core performance. Desktop class CPUs on the go
Powered by AMDs desktop Ryzen chips, the new TUXEDO Book XA15 reaches for the performance crown!
Hard shell. Many cores. To be more precise, the new TUXEDO Book XA15 integrates even up to 16 CPU cores of the powerful AMD Ryzen 3000 – desktop series in its 15.6 inch chassis.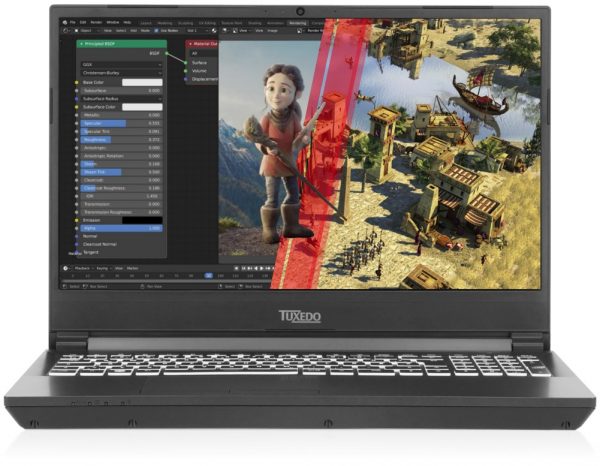 Starting with the AMD Ryzen 5 3600 with 6 cores (12 threads) in our entry-level configuration users can go up to the Ryzen 9 3950X with 16 physical and 32 virtual processing units in our top high-end configuration.
Connected via B450 chipset the AMD Ryzen desktop processors are plugged into the motherboard via the AM4 socket, allowing them to be swapped out later.
This makes the XA15 not only a powerful gaming notebook, but also an extremly high-performance render workstation.
In order to cool these powerful components properly, TUXEDO Computers provides the XA15 with a massive cooling system with 2 large fans and 6 copper heatpipes and also provides the system with up to 64 GB RAM, a total of 3 mass storage slots (2x M.2 NVMe, 1x SATA 2.5 inch) and a ultra fast 144 Hz FullHD IPS display.
The 62 Wh battery, which is accessible from outside the chassis (2 screws), and a 230 W power supply round off the highly attractively priced (starting at 1.499 euros) TUXEDO Book XA15.
The ryze of endurance
Groundbreaking runtimes thanks to AMD Ryzen 5 3500U and 91 Wh battery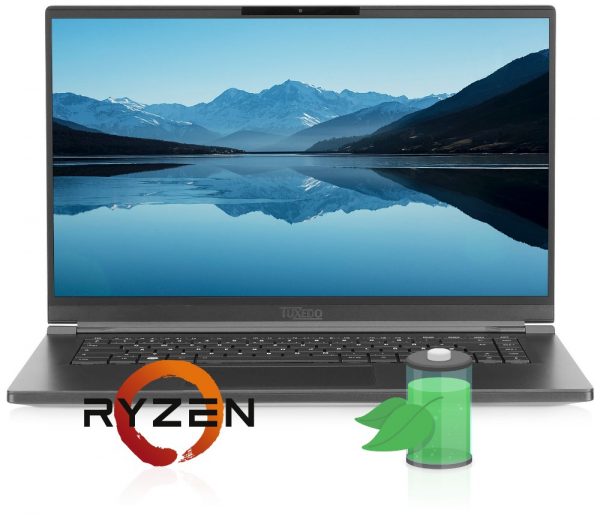 The almost only way to stop the TUXEDO Book BA15 is to switch it off. The combination of AMD's highly efficient Ryzen 5 3500U power-saving processors with its 91.25 Wh lithium polymer battery results in outstanding runtimes and high performance for all everyday tasks.
Due to its very large 91,25 Wh battery the TUXEDO Book BA15 is even able to reach maximum runtimes of up to 25 hours in power-saving idle mode as well as up to 13 hours in more practical everyday use cases, such as office programs, surfing or writing e-mails.
In addition to the huge battery capacity AMD's very power-efficient Ryzen 5 3500U energy-saving CPUs contribute their part to the BA15's great endurance. The AMD Ryzen 5 3500U provides more than enough computing power for all everyday tasks while consuming only up to 15 watts of power.
Another highlight of the TUXEDO Book BA15 is its elegant and durable chassis, which is partly made of magnesium alloy (AZ91D) (display cover as well as baseunit), while aluminum is used on the bottom panel.
In particular, the use of magnesium alloy makes it possible to build the device in this very lightweight (1,4 kg) and thin (16,8 mm) form factor as well as ensures its robust yet elegant chassis.
Besides a variety of different language illuminated keyboard layouts (of course always with "TUX Super Key"), the BA15 can also be equipped with up to 32 GB RAM (1x SO-DIMM DDR 4) as well as with two SSDs in M.2 format.
The TUXEDO Book BA15 starts at 859 euros in our entry-level configuration.