(Auszug aus der Pressemitteilung)

The first new models from NVIDIA's next-generation RTX 30-Series of graphics cards are here. Powered by the NVIDIA Ampere architecture, the GeForce RTX 3080 is available now, with the 3090 and 3070 coming September 24 and October 15, respectively.
3DMark includes a range of tests that can help you measure and compare the performance of these new graphics cards.
Benchmark ray tracing performance with 3DMark Port Royal
The RTX 30-Series is NVIDIA's second generation of RTX hardware that supports real-time ray tracing. Run the 3DMark Port Royal benchmark to test the ray tracing performance of RTX 30-Series cards and compare them with existing models, such as GeForce RTX 20-Series, Quadro RTX Series or TITAN RTX.
3DMark Port Royal is our dedicated real-time ray tracing benchmark for gamers. It uses DirectX Raytracing to enhance reflections, shadows and other effects that are difficult to achieve with traditional rendering techniques.

Benchmark DirectX 12 performance with 3DMark Time Spy Extreme
Test and compare the DirectX 12 performance of the new RTX 30-Series GPUs against other graphics cards with 3DMark Time Spy Extreme. This 4K DirectX 12 benchmark test is ideal for testing the latest high-end graphics cards.
Time Spy Extreme is a benchmark for gamers who want to play at the highest settings, system builders configuring 4K-capable machines and overclockers who are tweaking the latest PC hardware for every last bit of extra performance.
Use the 3DMark Time Spy Extreme Stress Test to check the stability of your system. A good time to run stress tests is after buying or building a new PC, upgrading your graphics card or overclocking your GPU.

Compare DLSS 2 performance with the NVIDIA DLSS feature test
The latest version of 3DMark, released today, adds DLSS 2 support to the NVIDIA DLSS feature test to help you compare performance and image quality with and without DLSS processing on existing NVIDIA RTX graphics cards and the new RTX 30-Series GPUs.
You can now choose to run the NVIDIA DLSS feature test using DLSS 2 or DLSS 1. With DLSS 2, you can also choose between three image quality modes—Quality, Performance and Ultra Performance. These modes are designed for different resolutions, from Full HD up to 8K. Select 8K resolution and Ultra Performance mode to test DLSS performance and image quality at 8K.
The NVIDIA DLSS feature test is based on the 3DMark Port Royal ray tracing benchmark. The test runs in two passes. The first pass renders Port Royal with DLSS disabled to measure baseline performance. The second pass renders Port Royal at a lower resolution then uses DLSS processing to create frames at the output resolution. The result screen reports the frame rate for each run.
In 3DMark Professional Edition, you can use the Image Quality Tool to output and save frames from each part of the test for further analysis. Use these frames to make a side-by-side comparison of the different DLSS 2 image quality modes, or to compare the difference with DLSS on and off using DLSS 2 or DLSS 1.
You can find more details about the NVIDIA DLSS feature test in the 3DMark technical guide.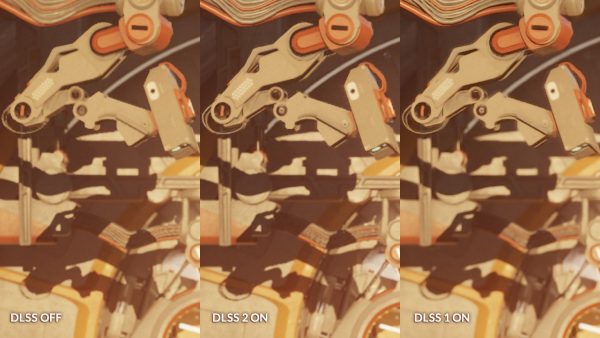 3DMark Advanced Edition—save 85%
3DMark Advanced Edition includes Port Royal, Time Spy Extreme, Stress Tests and the NVIDIA DLSS feature test as well as many other benchmarks, custom settings and features. From now until Sept. 28, 3DMark is 85% off, only $4.49 (USD), from Steam and the UL Benchmarks website.
3DMark Advanced Edition owners who purchased 3DMark before Jan. 8, 2019, will need to upgrade to unlock the latest tests. You can find out more about 3DMark updates and upgrades here.
3DMark Professional Edition
3DMark Professional Edition customers with a valid annual license have access to all 3DMark tests and features. Customers with an older, perpetual Professional Edition license will need to purchase an annual license to unlock Port Royal and the NVIDIA DLSS feature test.