(Auszug aus der Pressemitteilung)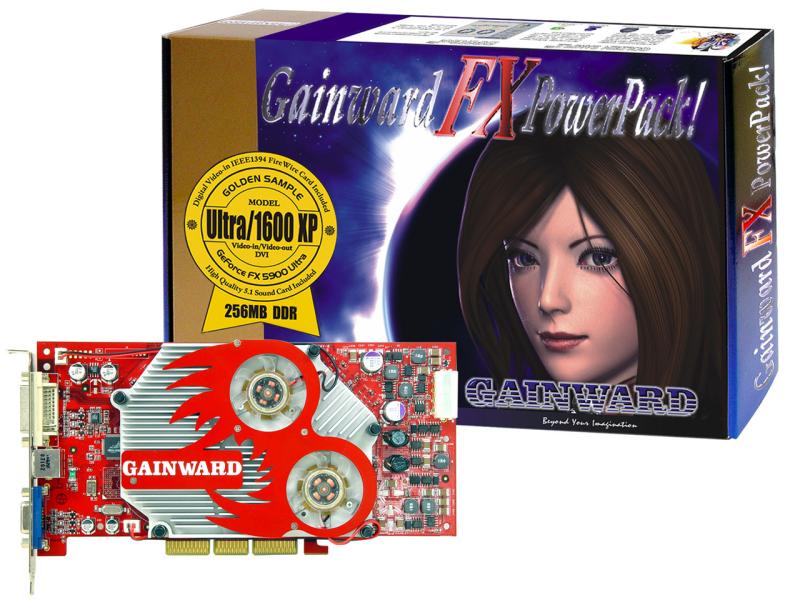 Taipei – Hong Kong – Fremont – Munich – London – Malmö – Moscow – May. 12th, 2003 – Gainward Co., Ltd, the leading manufacturer of high performance 3D graphics and home entertainment accelerators, announces that it will introduce the world's most powerful series of 3D graphics processor boards based on NVIDIA's GeForce FX 5900 technology formerly known as NV35 Ultra. The most powerful graphics board of the series; the Gainward CoolFX PowerPack! Model Ultra/1600 XP "Golden Sample"TM features a hand selected GeForce FX 5900 Ultra, 256 MB of carefully qualified 900 MHz DDR and is priced at € 899 incl. VAT with the integrated Gainward CoolFX water cooling and priced at € 699 with a conventional high performance, low noise fan. Both products are bundled with an IEEE 1394 FireWire card and a 5.1 PCI sound card with analogue and optical connection.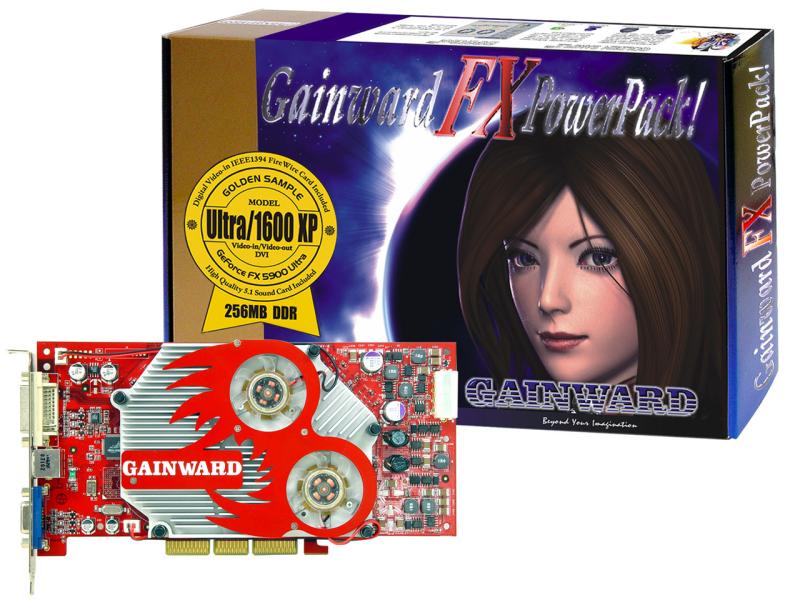 The Gainward FX PowerPack! Model Ultra/1200 XP "Golden Sample"TM integrates the GeForce FX 5900, 128MB of 900 MHz DDR and has a recommended retail price of € 549.
The Gainward CoolFX PowerPack! Model Ultra/1600 XP "Golden Sample"TM takes the graphics environment to a completely new level. Running at 450 plus MHz core clock speed and 850 plus MHz DDR memory speed, the Gainward CoolFX Power-Pack! Model Ultra/1600 XP "Golden Sample"TM is powered by pure adrenaline, delivering unmatched 3D graphics performance to the PC platform. To further improve the versatility and gaming experience the Gainward CoolFX PowerPack! Model Ul-tra/1600 XP "Golden Sample"TM is bundled with a digital video-in IEEE 1394 FireWire daughter card, a high quality 5.1 sound card with both stereo output and optical S/P-DIF output connectors, plus stereo headset.
The revolutionary new NVIDIA CineFX™ engine introduces cinematic-quality special effects and studio-quality color to the PC. Redefine the limits of both, graphics performance, and visual quality with the Gainward CoolFX PowerPack! Model Ultra/1600 XP "Golden Sample"TM – with 8 pipeline performance in combination with 256 bit high speed DDR memory – applications and games will run at higher resolutions and at unprecedented performance levels. The amazing GeForce FX 5900 Ultra GPU also features NVIDIA's Intellisample™ technology, Z-culling, anisotropic filtering and powerful antialiasing for all resolutions. These advances in compression and antialiasing techniques ensure realistic color and smooth edges at all resolutions while maintaining high levels of performance.
Gamers will see the most fluid frame rates possible at unmatched speeds for a truly realistic visual experience. Powered by the CineFX engine, the Gainward CoolFX PowerPack! Model Ultra/1600 XP "Golden Sample"TM shifts PC special effects to-ward cinematic quality thanks to a new level of advanced shading techniques. In addition, the innovative graphics pipeline of the NVIDIA CineFX engine has the built-in capacity to deliver true studio-quality 128-bit color processing, or 32-bit components for red, green, blue, and alpha values. By matching film-industry levels of precision processing, the NVIDIA GeForce FX 5900 Ultra GPU enables 3D worlds and characters to come alive – making Hollywood dreams on the desktop a reality.
The Gainward CoolFX PowerPack! Model Ultra/1600 XP "Golden Sample"TM also supports two monitors simultaneously (formerly known as DualHead or TwinView technology) with two independent 400 MHz RAMDACs for office applications, 3D gaming and professional applications such as CAD, DTP, animation, or video editing. The maximum supported resolution for both displays is 2048 x 1536 @ 85Hz. Depending on the resolution the maximum refresh rate is up to 240 Hz. The integrated NTSC/PAL TV encoder support resolutions up to 1024 x 768 without the need for panning with built-in Macrovision copy protection. The Video Mixing Renderer (VMR) supports multiple video windows with full quality and features in each window.
Gainward's XP-feature for internal and external Video-in and Video-out
Gainward's award-winning XP feature, also known as "VIVO", (Video-In/Video-Out) provides two video-in connectors and two video-out connectors (both composite video and s-video for PAL and NTSC) for smooth video recording and video editing. The Gainward CoolFX PowerPack! Model Ultra/1600 XP "Golden Sample"TM also provides an internal "VIVO" connector to connect the video input/output to the front side of the computer.
nView Display Technology allows end-users to select any combination of multiple displays, including a digital flat panel, two analog CRTs, and a TV, and to modify the display properties independently, using an intuitive software interface. In addition to a VGA connector, a DVI connector with a DVI/VGA converter is also provided.
NVIDIA's nView™ software offers a comprehensive solution for multi-monitor support, increasing screen real estate for more efficient viewing and switching between multiple active windows. NVIDIA Digital Vibrance Control™ (DVC) technology provides increased levels of adjustment for conveniently achieving richer colors and brighter, cleaner, and consistent images and text under any lighting conditions. The NVIDIA GeForce FX 5900 Ultra GPU also introduces the NVIDIA Video Mixing Renderer (VMR) software solution, for accelerating multiple video streams by moving video into the 3D graphics engine.
EXPERToolTM Performance Tuning Utility
EXPERToolTM is Gainward's performance tuning utility that allows the user to easily adjust the engine clock and the memory clock of any Gainward product from NVIDIA's recommended default settings to even faster settings. Due to Gainward's proprietary, rock solid, multi-layer High-Performance/Wide-BandwidthTM hardware design, Gainward offers the end user the choice to run Gainward's "Golden Sample" products at "Enhanced Performance Settings" (both, faster engine clock AND faster memory clock) which guarantee significantly improved "3D real-world performance" for even higher resolutions at 32 bit color depth.
Gainward FX PowerPack! Series


Robust and Complete Software Support
Gainward products support all major OS and software standards with robust, performance enhanced, accelerated software drivers including Microsoft Windows 2000/ ME/XP, Linux, MAC OS 9/X, Open GL 1.4, and DirectX 9 to deliver the best performance while assuring the best possible compatibility with current and future applications and games. Gainward's products are also backed by a free driver update support through the internet, telephone/fax/e-mail technical support and a 36 months limited warranty.