(Auszug aus der Pressemitteilung)

Taipei, Feb. 22nd, 2006 – Silicon Integrated Systems (SiS) proudly announced today that SiS761GX chipset has been officially applied by numerous motherboard and desktop PC makers. With fully support to fresh-released AMD Socket AM2 processor, SiS761GX has been successfully adopted by PCCHIPS A33G motherboard.


PCCHIPS A33G motherboard applied SiS761GX as the Northbridge chipset and SiS 965L as the Southbridge chipset. Fully support AMD Socket AM2 processor, PCCHIPS A33G also supports the Dual-core AMD Athlon64 X2 processor. With the brand new specification of AMD Socket AM2, the overall performance of A33G motherboard will be extremely enhanced by supporting for advanced dual-channel DDR2 memory. A33G motherboard embedded with two DDR2 sockets can provide fully support up to 2GB of memory size which entertains consumers who intend to have a digital entertainment lifestyle with highly-performed multimedia.
SiS761GX chipset is equipped with Mirage1 Graphic Engine which supports memory size up to 128MB. With this unbelievable design of Graphic Engine, users can enjoy the high quality of display on DVD and HDTV. A whole new generation of SiS761GX chipset, which supports PCI Express x16 interface, provides up to 4G/s of bandwidth which extremely exceeds 2.1GB/s of bandwidth provided by AGP8X interface. Furthermore, A33G motherboard is also equipped with one PCI Express x16 socket preparing for not only new operating system but also for 3D gamers' upgrading their computers. PCCHIPS A33G is expected to have mass production by the end of March, 2006.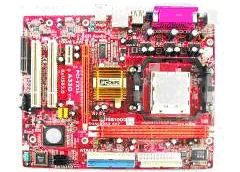 * PCCHIPS uses SiS761GX / SiS965L as the core of its PCCHIPS A33G Motherboard