(Auszug aus der Pressemitteilung)


CeBIT, Hannover, Germany, March 9, 2006
– Silicon Integrated Systems (SiS), a leading supplier of core logic chipsets today announced that SiS662 chipset will be introduced to the world at the first time at CeBIT 2006. Fully support Intel P4 mainstream platform, this fresh-released integrated chipset–SiS662 will definitely be the spotlight at this tradeshow.
SiS662 Northbridge chipset has been proudly introduced to the market in the first quarter of 2006 as a fully-supported integrated chipset for Intel P4 platform which has the powerful features of supporting dual-core processor, 64-bit operating systems, DDR2-667 memory, and PCI Express interface.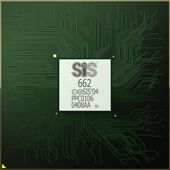 Embedded with unique Mirage™ 1 graphic engine which perfectly presents the high performance on 3D and DVD, SiS662 Northbridge chipset also supports advanced dual-core processor and DDR2-667 memory. Also, it supports PCI Express x16 interface for VGA card, providing up to 4GB/s of bandwidth for single-channel transmission which enables gamers upgrading their systems anytime. Furthermore, combined with SiS307 video bridge chip presents even better quality on DVD or HDTV by simply plugging in LCD monitor or CRT monitor.
SiS966L is SiS latest Southbridge chip which is combined with SiS662 Northbridge chip as a fully support to PCI Express x1 interface, and it also has 2 Serial ATA ports providing storage device of up to 150MB/s of transmission. Moreover, SiS966L is embedded with 8 USB2.0 ports which brings convenience to users, and supports 8 channel sound, V.90 data transmission and Gigabit Ethernet. Most important of all, SiS966L Southbridge chip is combined perfectly with SiS662 Northbridge chip to enormously increase the stability of the high density computing environment by supporting Multiple RAID disk array modes in RAID0, RAID1, and JBOD.
Today, SiS662 Northbridge chipset has been adopted by a number of customers and already enters the phase of mass production. Being the most competitive DDR2 integrated chipset in the mainstream market, SiS662 predictably will be another rising star.