(Auszug aus der Pressemitteilung)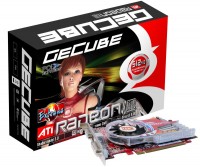 Taipei, May 19, 2006 – Today, leading graphics card brand GECUBE launches its latest GECUBE X1300 HyperMemory range of graphics cards (GC-HM1300PGU3-C3). The launch of this new series of graphics cards represents an important step forward for entry-level ATI products.
The GECUBE X1300 HyperMemory range is the first GECUBE graphic card to use GDDR3 architecture in the GECUBE X1300 Series, and the first to achieve core clock speed in excess of 600MHz (650Mhz Overclockable) and memory clock speed of over 1.2GHz.
With the HyperMemory active memory adjustment function, when gamers are playing at a high level of intensity, the system will automatically switch from 128MB to 512MB. With this new technology, PC gamers can concentrate on the game, without needing to worry about graphics card performance.
The GC-HM13PGU3-C3 graphics cards are capable of simultaneously activating High Dynamic Range (HDR) and anti-aliasing (AA) function, with modeling based on the visual performance of the human eye. Dual Link technology provides High-definition TV (HDTV) output with 2560*1600 resolution. The Avivo technology supports the (DVD quality) H.264 video format, while the Catalyst Video Converter provides video file conversion function with an easy-to-use interface and a processing speed rate of more than 80%.
Overall, this is a heavyweight graphics card that is fast, easy to use, and provides an impressive range of multimedia functions.
GECUBE X1300 HyperMemory Edition Specification