(Auszug aus der Pressemitteilung)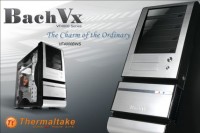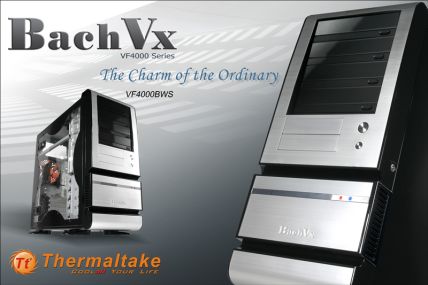 Januar 2007 – Thermaltake Technology, the world's leading brand in high-end chassis and high-efficiency power supply, today introduced Bach Vx to complement the market's demand in the integration of digitalized home theater personal computer. With dizzying array of HTPC or Home Theater PC chassis available today, Bach Vx stands out both in aesthetic appeal and functionality that has never before seen.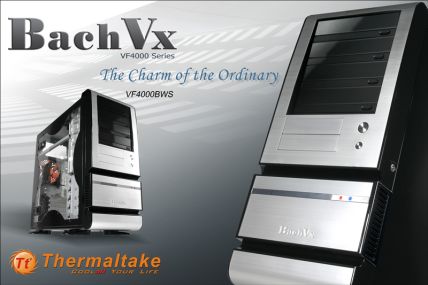 User who pay special attention to minute details will appreciate Bach Vx's consideration in the material used and intricate manufacturing processed that makes up its front bezel. Brushed aluminum covered plastic bezel with accent of piano blacked finished CD-ROM cover and border displays unmatched elegance. Foregoing the traditional boxy designs, Bach Vx is elegant and sophisticated, achieved through the perfect contrast of stylish accent curves on the top and bottom of front bezel.
Functionality also played an equally important part in the design of Bach Vx. Four 5.25" Drive Bays, two exposed 3.5" Drive Bays and five hidden 3.5" HDD Bays are the standard features. In addition, eSATA port is placed on top for easy access along with two USB 2.0 and HD Audio ports. eSATA or external Serial ATA is the latest technology in data transfer which offers speeds up to a 300MB/s or 3Gb/s interface rate – up to five times faster than existing interfaces such as USB 2.0 and/or 1394a.
Removable HDD cage not only simplifies PC assembly but also provide future support for extended graphic card that requires extra real estate for proper installation. Tool-less mounting mechanism found on PCI slot and bay drives all comes standard with Bach Vx.
Thermally efficient chassis is critical in building the next generation of PC due to the rise in power consumption found on both CPU and graphic cards. Well constructed chassis need accelerate removal of heat buildup inside chassis while keeping noise level to the minimal. While most chassis today can be found equipped with 12cm fans, Bach Vx went further to design in a 14cm intake fan along with a 12cm exhaust fan for maximum heat dissipation. Placement of 14cm intake fan directs cool air precisely at graphic cards to remove excess heat. For user who wishes for added cooling capability, Thermaltake offers optional side panel with 23cm fan embedded.
Unique styling combined with uncompromising flexibility, Bach Vx is designed and engineered to deliver the ultimate computing experience.