(Auszug aus der Pressemitteilung)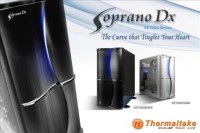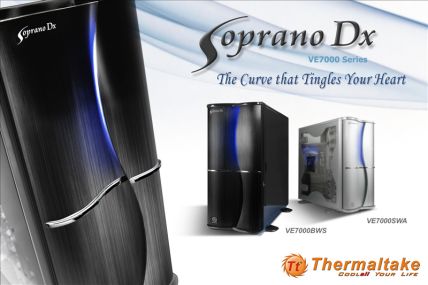 Januar 2007 – Thermaltake Technology, the world's leading brand in high-end chassis and high-efficiency power supply, today introduced Soprano Dx, the next generation of contemporary and thermally efficient mid-tower chassis. Market trend today is pushing towards the integration between personal computer along with living room environment, and Thermaltake is looking to bridge the gap with the introduction of Soprano Dx.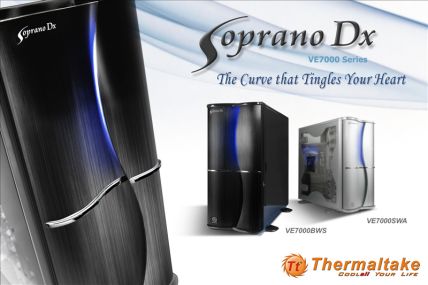 Design concept of Soprano Dx is obvious and bold. It set itself apart from the traditional boxy and edgy design that people has come to expect of traditional computer chassis. Instead, the contours of Soprano Dx render a streamlined fusion of delicate curve and futuristic depth appeal. Brushed aluminum with piano surface finish and a touch of weightless blue LED light further enhances the chic design to embody a cool and calm sensation that allows the chassis to be effortlessly emerged into the living room environment.
Functionality also played an equally important part in the design of Soprano Dx. Four 5.25" Drive Bays, two exposed 3.5" Drive Bays and five hidden 3.5" HDD Bays are the standard features. In addition, eSATA port is placed on top for easy access along with two USB 2.0 and HD Audio ports. eSATA or external Serial ATA is the latest technology in data transfer which offers speeds up to a 300MB/s or 3Gb/s interface rate – up to five times faster than existing interfaces such as USB 2.0 and/or 1394a.
Removable HDD cage not only simplifies PC assembly but also provide future support for extended graphic card that requires extra real estate for proper installation. Tool-less mounting mechanism found on PCI slot and bay drives all comes standard with Soprano Dx.
Thermally efficient chassis is critical in building the next generation of PC due to the rise in power consumption found on both CPU and graphic cards. Well constructed chassis need accelerate removal of heat buildup inside chassis while keeping noise level to the minimal. While most chassis today can be found equipped with 12cm fans, Soprano Dx went further to design in a 14cm intake fan along with a 12cm exhaust fan for maximum heat dissipation. Placement of 14cm intake fan directs cool air precisely at graphic cards to remove excess heat. For user who wishes for added cooling capability, Thermaltake offers optional side panel with 23cm fan embedded.
Unique styling combined with uncompromising flexibility, Soprano Dx is designed to deliver the ultimate computing experience.