(Auszug aus der Pressemitteilung)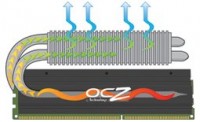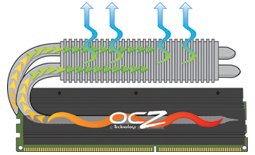 Delft, Netherlands—November 6, 2007 – OCZ Technology Group (LSE: OCZ), a worldwide leader in innovative, ultra-high performance and high reliability memory, today announced the ReaperX memory series, an innovative memory solution that utilizes highly effective heat transfer technology. Re-engineering the Reaper HPC (Heat Pipe Conduit) design, the DDR2 PC2-6400 ReaperX uses a dual metal heatpipe formation to effectively offload heat and increase stability of memory modules. The unique ReaperX heatspreader is designed to deliver superior heat dissipation that is more effective than traditional heatspreaders.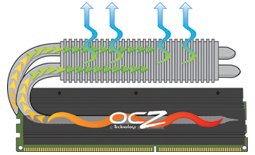 As part of the award-winning OCZ HPC family, the ReaperX memory series is built with the same aim of optimal heat dissipation for the best possible overclocking environment for enthusiasts. Through leading-edge cooling technology and engineering, ReaperX HPC (Heat Pipe Conduit) modules offload heat with extreme efficiency due to a new dual copper heat pipe design. Each memory chip is in direct contact with a thermo-conductive pipe that guides the performance robbing heat away from key memory components and quickly dissipates it through the aluminum fin array.
"The new ReaperX series once again raises the memory bar for desktop computers by combining a high density configuration with Enhanced Bandwidth Technology and an innovative heat pipe design heat spreader," commented Dr. Michael Schuette, VP of Technology Development at OCZ Technology. "The result is the new OCZ ReaperX, representing the ongoing commitment at OCZ Technology to promote ultra low latency, high frequency modules featuring standard and EPP operation modes as part of our leading role in the industry."