(Auszug aus der Pressemitteilung)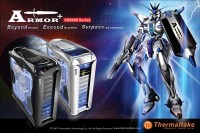 November, 2007 – With the success of the Thermaltake Armor full tower, Thermaltake is introducing the most powerful version in the Armor family, the new Armor+ Chassis. While all the essence of Armor has been maintained, Armor+ comes with many market leading features that are never seen in any Chassis on the market today. With the release of previous online preview that left gamers tingle with excitements; Thermaltake is launching the exclusive website of Armor+ with global market availability schedules today!
Born to feed the beasts, the Armor+ has been granted. With bravely implanted features like the 10 PCI slots, 14 drive bay expandability and adjustable PSU supporting bridge; fitting everything from micro-ATX to extended-ATX motherboard and even quad-graphic cards, the extremely spacious Armor+ is tailored for the top-end enthusiasts.
With extra careful concerns on the user experiences, not only the 5.25", 3.5" devices and PCI slots are designed tool-free, but the further careful touch on the motherboard tray and cable management functions also enhanced the installation convenience. Moreover, Armor+ offers superb ventilation with the entire body metal grilled and well organized fan cooling system managing CPU, VGA and HDD thermal independently for optimized system airflow.
The liquid-cooling version of Armor+ will also be available in the near future. The embedded 3 bay liquid cooling system with 5 steps instant setup and external coolant maintenance features will definitely show you the innovation and technology that Thermaltake is famed for.
Not just the fascinating internal features that satisfy all heavy demands, the solid constructions and streamline appearance of Armor+ inherited the fine tradition with good strains of seeds from Armor. Experience the beauty and innovation breakthrough from the new Thermaltake Armor+ exclusive website with most updated info on the global market availability!