(Auszug aus der Pressemitteilung)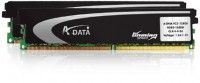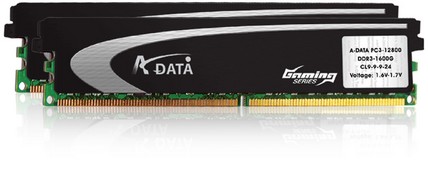 A-DATA Technology Co., Ltd., a worldwide leader in high performance memory products, announced today its new DDR3 Gaming Series running at 1600MHz. A-DATA DDR3-1600G modules represent the very best of A-DATA's cutting edge technology in DDR3 gaming memory, delivering the perfect blend of performance, durability and stability with low power consumption.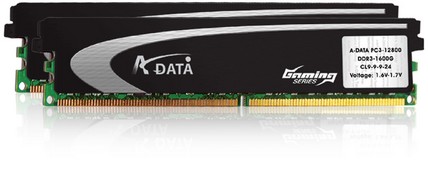 In order to provide the growing PC gaming market with the best memory hardware designed for multiple online gamers, DDR3-1600G is available as single channel kits up to 2GB and also as 2GBx2/1GBx2 dual channel configurations with latency settings at 9-9-9-24. With high capacity up to 4GB, these memories can unleash the true power of 64-bit operating system, Windows Vista® platform.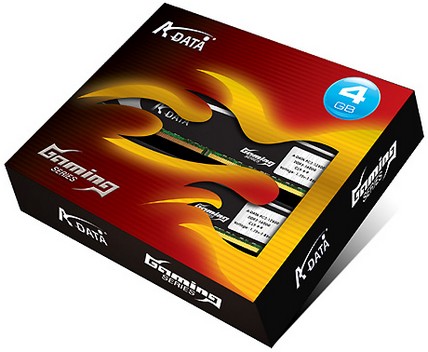 The whole Gaming Series memory line is customized to fulfill gamers' need of performance and stability. A-DATA G Series modules are guaranteed to satisfy the needs of the most demanding multiple online gamers as well as professional graphic designers and multimedia auditors.
Features:
All memory chips are verified using overclocking criteria for better quality.
High quality 6 layers PCB (Printed Circuit Board)
Optimized for 64-bit OS (operating system)*
Backward compatible with DDR3-1333 and DDR3-1066
Lifetime limited warranty
* 32-bit OS environment has 4GB memory addressing barrier which results in 2.5~3GB memory accessibility.
Specification:
1GB/2GB single channel and 2GB/4GB dual channel module kits are tested at 1600MHz
Test at latency settings 9-9-9-24 at 1.6V-1.7V
SPD (Serial Presence Detect) programmed at JEDEC standard DDR3-1333 with latency settings at 9-9-9-24 or basic system booting