(Auszug aus der Pressemitteilung)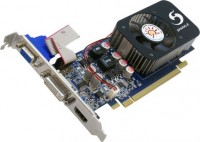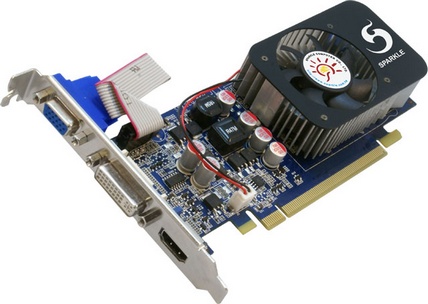 Taipei, Taiwan – December 23, 2009 – SPARKLE Computer Co., Ltd., the professional VGA card manufacturer

and supplier, today introduced the SPARKLE GeForce GT240/GT220 Low Profile Graphics Card, as the world
first low profile graphics cards based on GeForce GT240/GT220 graphics chips, SPARKLE GeForce GT240/
GT220 Low Profile Graphics Cards bring a full range of 3D performance and amazing high-definition home
theater video experience to mainstream/entry-level high-definition players with their low profile design.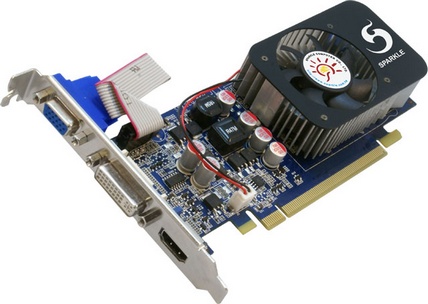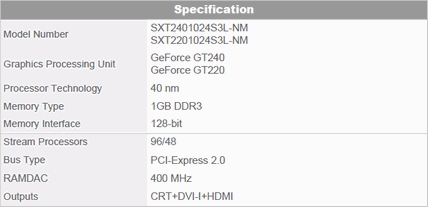 World First Low Profile Graphics Cards Based on GeForce GT240/GT220 Graphics Chips
Consummately designed low profile, the PCB height of the SPARKLE GeForce
GT240/GT220 Low Profile Graphics Cards are 6cm,only half the height of
ordinary Graphic Cards with full profile design, which makes the SPARKLE
GeForce GT240/GT220 Low Profile Graphics Cards to be the best partners for
HTPC. HTPC enthusiasts don't need to worry about the inconvenience caused
by narrow space HTPC chassis and full profile designed graphics cards. With
low profile design, the SPARKLE GeForce GT240/GT220 Low Profile Graphics
Cards not only can easily meet the HD video playback and DX10
gaming demand from HTPC users, but also can easily satisfy the requirements
from SSF, mini-chassis and industry PCs which demand compact and practical
graphics cards.
40nm Process
Taking the performance increase into account, SPARKLE GeForce GT240/
GT220 Low Profile Graphics Cards features 40nm chip process from TSMC,
this new process let SPARKLE GeForce GT240/GT220 Low Profile Graphics
Cards to be the first batch graphics cards on market to adopt the NVIDIA new
40nm graphics chip. Thanks to advanced 40nm process, now It features much
higher transistor density than before, bringing a greater number of stream
processors than its predecessor.
Comprehensive Upgrading the 3D Effectiveness of the Previous Generation of GeForce 9
Compared with the previous generation of GeForce 9600GT/9500GT graphics
cards, SPARKLE GeForce GT240/GT220 Low Profile graphics cards have more
stream processors. The amount exaltation of the stream processors can brings
amazing floating point processing power for good gaming performance and
powerful performance ever from the unit area of the chip! According to the test
done by SPARKLE, the average performance of the SPARKLE GeForce GT240
Low Profile Graphics Cards is 10% more than the GeForce 9600 GT reference
boards, the average performance of the SPARKLE GeForce GT220 Low Profile
Graphics Cards is 74% more than the GeForce 9500 GT reference boards.
1GB Large-capacity High Speed Video Memory
Today's game, such as Crysis, Alone in the Dark 5, Stalker: clear sky, they
normally use a large number of bump texture, transparent texture to describe
faces of characters and render realistic gaming scenes, so these games put
higher demands on the capacities of video memory. The current situation
demands at least 512 MB video memory to run these games. The SPARKLE
GeForce GT240/GT220 Low Profile Graphics Cards come with incredible large
1GB DDR3 high speed video memory can let users to pass the 3DMark
Vantage High Test which strictly demand at least 512MB video memory,
providing much more detail information to mainstream users for better
understanding its graphics capability, letting gamers to enjoy the pleasure
brought by 3D games.
Silent Cooling System With 27.3 dB Noise Control
The SPARKLE GeForce GT240/GT220 Low Profile Graphics Cards are
equipped with exquisitely made low-speed active cooling system. The cooling
fan uses high-density aluminum heatsink covering the GPU / memory / MOS
circuits, providing a comprehensive cooling solution to the graphics cards. The
working noise is controlled only 27.3 dB, it makes truly quiet working
environment.
All Solid Capacitors Design
The capacitors are key factor of power supply on the system and it has great
impact on system stability. At present, solid capacitors and electrolytic
capacitors both store electricity and discharge it when needed. According to
factual test, any operation under high frequency and temperature, solid
capacitors are able to supply more stable current than electrolytic capacitors
and strengthen longer lifespan. Solid capacitors contain zero risk of leaking or
exploding. The SPARKLE GeForce GT240/GT220 Low Profile Graphics Cards
use all solid capacitors as a true factor of products quality.
Experience Vivid DX10.1 Graphics
Experience the vivid DX10.1 gaming graphics at fluent frame rates, or go beyond
traditional 3D graphics and experience GPU-accelerated NVIDIA® PhysX™
gaming effects, Stereoscopic 3D, and lightning fast video and image
processing. All you need is the SPARKLE GeForce GT240/GT220 Low Profile
Graphics Cards with full DirectX 10.1 and full Shader Model 4.1 support,
delivering unparalleled levels of graphics realism and film-quality effects.
Native HDMI Interface Onboard with HDMI 1.3a Support
Fully integrated support for HDMI 1.3a including xvYCC. Deep color and 7.1
digital surround sound. High-definition audio transmission can be realized
without spdif wiring.
NVIDIA 3D Vision Support
The SPARKLE GeForce GT240/GT220 Low Profile Graphics Cards support
NVIDIA 3D Vision technology, bringing a fully immersive stereoscopic 3D
experience to the PC. A combination of 3D Vision discover glasses and
advanced software, 3D Vision transforms hundreds of PC games into full
stereoscopic 3D. In addition, users can watch 3D movies and 3D digital
photographs in eye popping, in crystal clear quality.
Premium Windows 7 Experience
Graphics cards are an essential element of today's PCs, enabling more visual and
more interactive experiences. As a leading manufacturer in graphics cards market,
SPARKLE worked closely with Microsoft on the development of Windows 7 to
ensure that its graphics cards take full advantage of the great new features and
functionality. If you use your PC to enhance photos, watch or edit videos, play
games, or if you simply desire a fast and efficient graphical interface, SPARKLE
GeForce GT240/GT220 Low Profile Graphics Cards will surely delight your
senses and offer a premium experience for Windows 7.
2nd Generation PureVideo HD
High-definition video decoder and post-processor delivers unprecedented
picture clarity, smooth video and accurate color for movies and video. Hardware
decode acceleration provides ultra-smooth playback of H.264, VC-1, WMV,
DivX, MPEG-2 and MPEG-4 HD and SD movies without the need for a dual or
quad-core CPU. Dual-stream hardware acceleration supports picture-in-picture
content for the ultimate interactive Blu-ray and HD DVD movie experience.
NVIDIA™ PhysX
SPARKLE GeForce GT240/GT220 Low Profile Graphics Cards support for
NVIDIA PhysX technology, enabling a totally new class of physical gaming
interaction for a more dynamic and realistic experience with GeForce.
NVIDIA™CUDA Technology
CUDA technology unlocks the power of the GPU's processor cores to
accelerate the most demanding system tasks such as video transcoding
delivering up to 7x performance over traditional CPUs.
OpenGL 3.2 Optimization and Support
Ensures top‐notch compatibility and performance for OpenGL applications.