(Auszug aus der Pressemitteilung)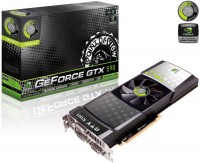 EINDHOVEN –March 22nd, 2011 – Point of View known for its range of NVIDIA based 3D Graphics cards, Netbooks and other PC products, announces today its launch of the redefinition of performance: the Point of View GTX 590.
What do you get when you combine excellent features and performance of a GeForce 500 GPU with … another GF500 GPU? 200% Hardcore performance! And that's what the GeForce GTX 590 is all about.
The all-new flagship GeForce 500 series' graphics card prides itself with not one but two GF500 GPU. Without any difficult math this will offer some serious performance. The beast known as the GeForce GTX 590 will out-perform every existing graphics card with a huge lead in graphics performance.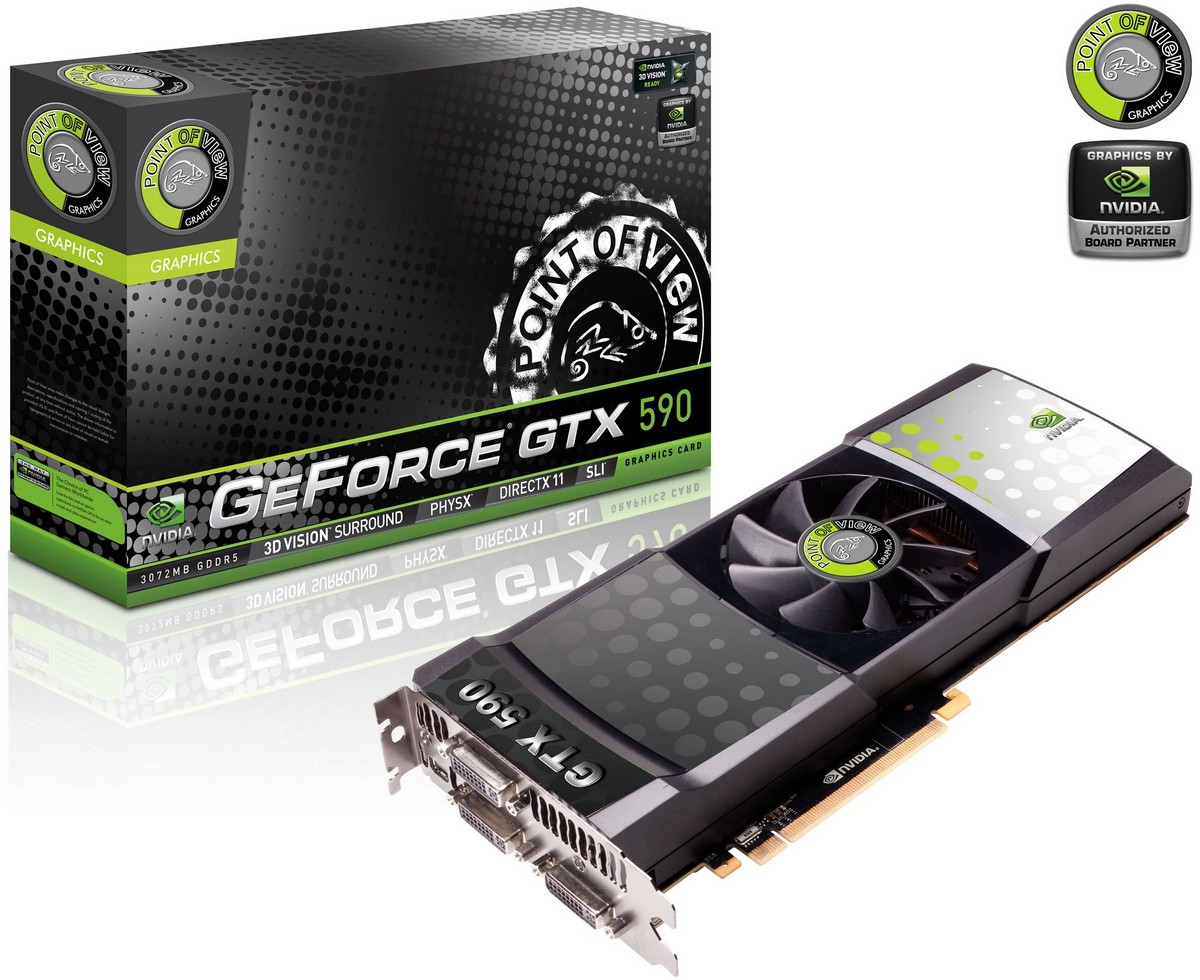 Of course this graphics card has the latest DirectX 11 support as well as all the rendering technologies needed for the most advanced games and applications. Not much can be said since it's already clear that PhysX, CUDA and 3D Vision (surround) maximize your gaming immersion!
The GTX580's innovating thermal redesign has been improved for the sole purpose of cooling this monster card. Each GPU has a separate vapor chamber to tame these two roaring DX11 engines. For the optimal performance of the two GPU there is also an on-board PCI-E bridge chip and a 10 phase onboard power supply included on the 12-layer, 2oz copper circuit board.
With your personal army of 1024 shader cores running on 1216 MHz you will own every game or application! Both GPU have an overall clock speed of 608 MHz with no less than three Gigabytes DDR5 memory clocked on 3414 MHz to work with!
A single graphics card, double GPU and triple DVI graphics outputs. Broaden your Point of View by connecting up to three monitors for an ultra-ultra-wide gaming experience. Of course these DVIs are dual link enabled so the max resolution would be 3 times 2560 x 1600 which equals 7680 x 1600.
Also there is one mini Display Port output available.
A closer look at the specs of the GTX 590 reveals:
GeForce GTX 590:
Graphics Engine : GTX590 (40nm) – dual GPU
Interface : PCI-Express 2.0
Video memory : 3072 MB DDR5 (2x 1536MB)
Core clock : 608 Mhz
Memory clock : 3414 Mhz
Shader clock : 1216 Mhz
Processor cores : 1024 (2x 512)
Memory bus : 768 bit
DVI-I : 3x dual link
Other graphics output : 1x Mini DisplayPort
The GeForce GTX590 is the best graphics card in the world that everybody dreams to have. The new performance king by Point of View will be available immediately, so contact your POV retailer for more information or visit the "Where to Buy" section of our website.
Don't benchmark to see who you can top, benchmark to see who's behind you! You got GFX?